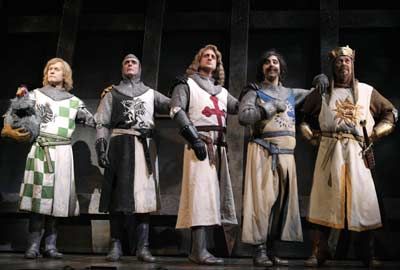 Monty Python's Spamalot
2PM 07.15.07.06 @ The Canon Theatre

(244 Victoria Street)
Always look on.. the bright side of life...
I scored a pair of free tickets for the touring Broadway musical
Monty Python's Spamalot
. This was their opening week, and the show will be leaving in September where it'll start in London, England. The show was sharp, witty, funny with cunning lines included pop cultural references and audience interactions. The set was quite amazing, with animated screens at times just like the film. The major things from the film translated well onto the stage, God, Vicious Rabbit, the famous chandelier, Knights Who Say Ni... etc. It wasn't exactly like the film but hey, it's a musical! At the end there was even a karaoke portion of "Always Look on the Bright Side of Life". The cast was charming, the crowd seemed to enjoy it and i highly recommand everyone to go see it before it leaves for London!