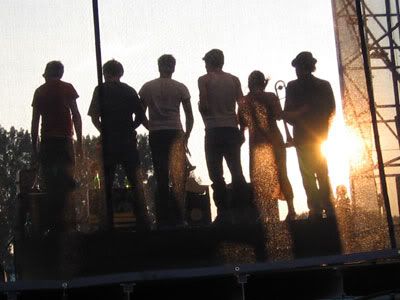 Modest Mouse // Broken Social Scene // Metric // Do Make Say Think // The Most Serene Republic // Triumph of Lethargy // Keren Ann
07.26.06.05 @ Olympic Island
10:34am:
Eileen and i arrived at the Ferry Docks, and who did we saw? Our Stalkee, Theresa! We took the ferry over and greeted by Amy H., and she pointed to the direction where we were going. We checked in with Leslie but there wasn't much we could do at the moment so we went over to help Theresa at the merch booth.
12:30pm:
So much folding! I went back to help out carrying some drinks out to the tent. Then i went back to the merch booth until Leslie called Theresa and to informed us that Amy H was on-site so we need to go back to backstage.
2:30pm:
We muck around the back, there wasn't much to do. We introduced ourselves to the catering staff then we had lunch: sausage/burgers, mixed greens with balsamic vinegarette and potato salad.
Keren Ann
was kinda boring for a mid-afternoon act.
Triumph of Lethagy
seemed to be openning for all the
Modest Mouse
dates since April, was the second act of the day. They were alright, bit instrumental, bit of screaming.
3:30pm:
We were bored, so we went over to the catering girls and helped them to husk corn during
The Most Serene Republic
's set. The singer goes "Oh, that was better than sex." All the girls started laughing and made fun out of the whole thing. Then after we finished we went around to the front and checked out to see what their hype was about. They were good, but not sure if they were up to their hype.
5pm:
Do Make Say Think
was awesome! I've heard lots of good things about them but didn't realized they were that great. They were another experimental, improvising instrumental band from around the Toronto area. I definitely want to see them again!
6pm:
Dinner is served! What we have tonight is BBQ Ribs, Jerk Chicken, Rice and Beans, cob of corn, various of summer salads, fruits and cookies for dessert. Enjoy! It was soooo awesome! TAKE THAT VIP AREA! We have better food and it's all FREE! We were all having dinner as
Metric
came onstage. They were okay, i definitely prefer
Dragonette
.
Okay, i'm tired of writinig. I'm sure i've left out lots of details and the bit about the cotton angel but please look at the
pixblog
.
Broken Social Scene
was great and as many people as usual.
Feist
did made a special appearance for
Almost Crime
and a few others. Eileen and i were pretty much done after dinner, so we went to muck around Centreville.. and we met this cute 2-yr old pug named Romeo. We took advantage with our All Access wristband and went to the VIP Area where i bumped into Karen Kim again! We met up with the rest of the gang after BSS, we stayed a few songs for
Modest Mouse
until they played
Float On
then we left the island. The rest of the gang were going to
Wavelength
, i felt so grossed out by the sweat and sunscreen so i went home. I was very disappointed, after spending the entire day in the sun there was no tan!! Luckily no burns neither.