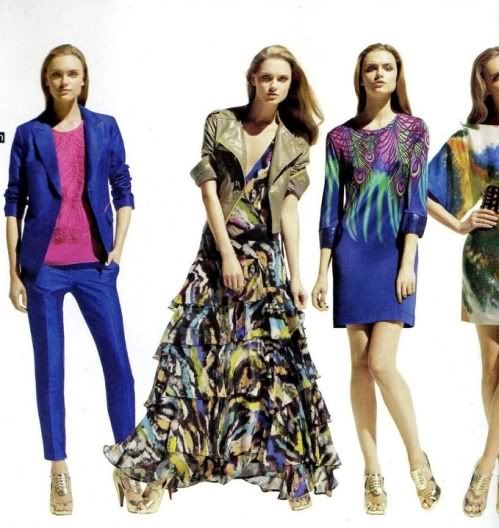 Having such a bad week, I've completely forgot about the launch of
Matthew Williamson for H&M
. He's one of my favourite designers and glad to see a British Designer on the international map, I've always love his vibrant prints. I really wanted the cobalt blue suit but I was two days late to the Regent Street flagship store, only to find the trousers and all in enormous size 40. The above 3 outfits are the best ones in my opinion. I wouldn't mind the leather jacket, the silk dress is stunning but at £199, it's too much for H&M (I can buy a real Burberry evening dress for that amount at my Hackney outlet). The peacock dress looks great on screen and in magazine, but it's tricky how the print looks in person, I think this dress will be first to be sold out.
I went to check on the other location today to try my luck if there is the print scarf left. The scarf would actually be my first choice, since I'll be going to a designer sample sale on Thursday, I rather spend my money there. When I arrived the Kensington store, I immediately spotted the Matthew Williamson rack. The £150 sequin dress was there but in a size 42, there was also the silk jumpsuit and the short version of the silk dress and then I spotted my scarf. There was already a lady at the rack just took off the cyan peacock cardigan, I immediately grabbed the scarf. The print is the same as the silk dresses above. It was only £15, 100% pure silk, designer print – a bargain! Score! I love it!
P.S. I've exceeded my 20km goal of Running for April (I ran 21km)! Body Blast tomorrow!