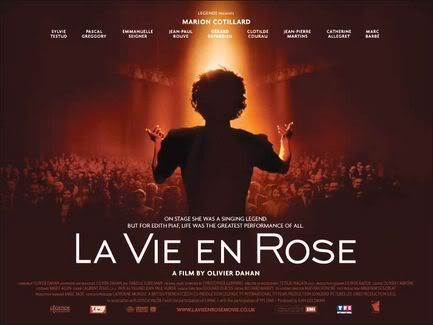 ****1/2 France / UK / Czech Republic. 141 min. Colour 2007. Directed by Olivier Dahan. Written by Isabelle Sobelman & Olivier Dahan . Cast: Marion Cotillard, Gérard Depardieu, Sylvie Testud & Emmanuelle Seigner.
07.17.02.08 @ 3:35 pm Prince Charles Theatre.
I have always hated to go see films alone but I did it today. I was still in a very good mood, still on the high running into him randomly yesterday. Yes, the grin was still present. This is one film I've been wanting to see but everyone saw it without me. So I thought why not? It wasn't so bad going to see films alone. In fact, I've joined the membership, will be going quite often to see those 2nd run i haven't a chance to see the first run.
The film is about the life of Edith Piaf, whom I love, thought it was a great film. Marion Cotillard was great as young to woman to sickly elderly Edith. The film makes you laugh and makes you cry – especially when it ended with her signature song "Non, je ne regrette rien". What an extraordinary life!