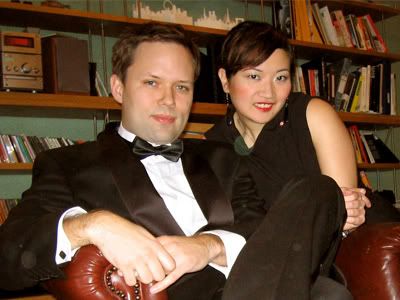 Pre-dinner photo of Mike and I at his flat
Mike invited me to attend a black tie dinner with the Canadian Ambassador in Cambridge. I've been excited about this for a while, especially looking forward to see him. After meeting up at Cafe Nero on Market Street, and quickly changed at his apt we were off to
Trinity College
for our sumptuous dinner. We first started our evening in the champaign room. I met the organizer for the event and a famous judge who asked me to held his glass whilst he put on his Canadian pin. We then proceed to a small dining hall for our feast.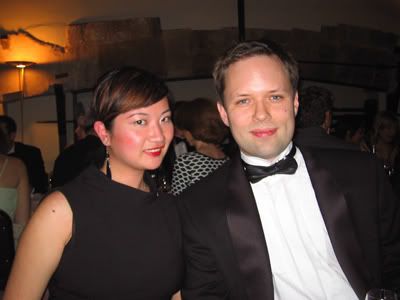 This is us at dinner.
Below is the menu:
Starter: Fresh Crab Meat Salad wrapped with Smoked Salmon served with Lambs Lettuce and crushed Black Pepper

Served with Mission Hill Chardonnay

Main: Medallions of Suffolk Venison with Caramelised Apples, Calvados, Berny Potatoes (mashed tatties with pine nuts, rolled into a ball and deep-fried), and selection of Fresh Vegetables (snow peas, baby carrots and beans)

Served with Mission Hill Cabernet Merlot

Dessert: Pecan Pie with Cinnamon Crust served with Chantilly Cream

Port, Coffee & Truffles
During dinner we met our table neighbours, Dave, who is an aero engineer from Calgary, working on combustion issues on Rolls Royce engines. Grace across from us was from Vancouver and currently studying in International studies. James who was from Szecheun, working on his masters in bio studies. Also met some other students there who were on the local hockey team. There were a few awkward moments when a couple of people thought and asked Mike and I were a couple. When I hesitatingly shook my head, they said "Oh.. sorry, I thought... but you both look great together!" Oh, life is an irony!
I was quite drunk already so I wasn't planning on drinking more, though I thought Mike wanted to have a drink with our newly made friends. We decided to go back to his place, chatted a little and we went to bed. I couldn't really sleep that night. Actually, neither of us did...
The next day Mike took me punting. The weather was nice, almost like Spring, pairs of ducks quacking (err, more like mating calls), Cambridge was soooooo beautiful. The scenery was all like a painting, and the architecture was grand, almost made me feel i was wrapped up in history. I almost feel like we should be reciting some poetry. We had a good laugh by making fun of the Chinese tourists. Mike made punting looked so easy, when it was my turn to try, it wasn't so. First off, the pole was twice as tall as me, and it was heavy. I suppose to put the pole perpendicular to the water and then push to make the boat sail forward. I could barely push it! Okay, so i'm a weakling! after slowly get the boat going, i hit the wall and almost hit a pair of ducks. At some point our boat was sailing sideways blocking the entire river!! I suck! hehe So basically he punted the entire hour and i was just on for 5 minutes.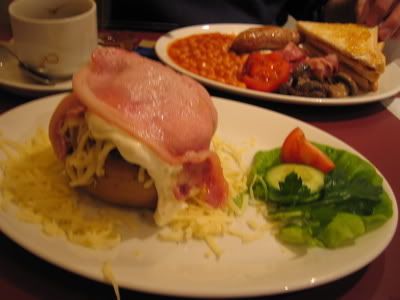 Post punting, he took me to a local restaurant called
Tatties
, where he had sausages, eggs and beans and i had a bacon, sour cream & cheese tatties. It was huge but tasty. He looked at my pictures from Finland whilst he waited for me to finish eating. After breakfast, we went back to his apt to gather my bags, and we said our quick, sorta awkward, goodbye as he hurried to work. I watched him disappeared into the crowd. He never looked back. I was planning to stay and explore Cambridge a bit, but I had some mixed feelings, I wanted to leave. I then got a text from Elodie saying that she was coming down a cold. So I went through the Market and picked up some veggies and headed back to London to make her some soup.