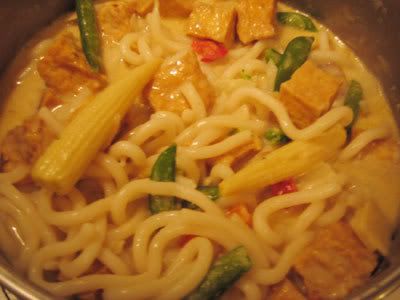 Green Curry Tofu with Udon & Veggies

(Serves 2-3)
| | |
| --- | --- |
| 1/2 to 1 tbsp | Green Curry Paste |
| 1 can | Coconut Milk |
| 3 tbsp | Fish Sauce |
| 2 tbsp | Sugar |
| 2/3 cup | Water |
| 2 packages | Udon Noodles |
| 1 package | Fried Bean Curd |
| 1-2 cup(s) | Master Choice Frozen Oriental Mix Veggies |
1. In a medium saucepan with med-high heat, brings coconut milk to boil, add green curry paste, fish sauce, sugar and water. Turn down heat and simmer for 5 mins.
2. Add tofu, cook until tofu is softer, about 15 mins.
3. Add udon, break a part a bit, 2 mins. Add frozen veggies, covered and cooked until heated throughout. 5 mins. Cover and let stand for 2 mins to thicken sauce a bit. Garnish with Thai basil if desired! Voila!