The Pre-Roast.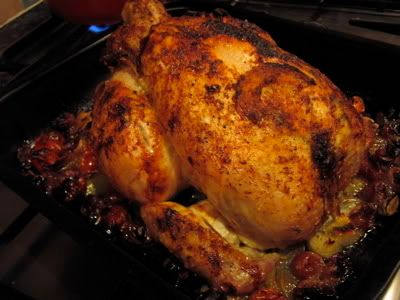 Smoked Paprika Cinnamon Roasted Chicken with Caramelised Fennel, Roasted Cherry Tomatoes & Red Grapes.

Served with Couscous (I love that word) and Spinach, Rocket Salad.
Sunday is for roast. This is not a traditional "Sunday Roast" but with the chilly weather this weekend, I crave for a warm roasted chicken. Billie Holiday is playing in the background. An hour of warm aroma of fresh herb (from my own garden, of course) and deliciousness infusing the entire kitchen whilst I watch impatiently like a child, peeking every five minutes through the oven door. I calm myself down with a hot cup of chai tea and catch up on my reading. I've added a sprinkle of cinnamon onto the chicken before it goes into the oven at 220ºC for an hour and a quarter, basting every fifteen minutes. Result is the most delicious, moist, succulent tender chicken that falls off the bone. Red grapes, tomatoes, shallots and fennel all have caramelised nicely and flavour have been condensed to an impeccable intensity of sweetness that nature and oven can ever offer.
I then make a simple couscous (I love that word, couscous. Couscous!) with little onion and sultans with a dash of cinnamon over a little hot chicken stock to go along with the dish. Just for health's sake, I throw in a little spinach and rocket salad. Okay, the dressing is store-bought (Brianna's Poppy Seed Dressing), but hey, I'm not full-time Nigella Lawson nor Martha Stewart, at least not yet.
Cardamom Cinnamon Apple Crumble served with Warm Custard.
As for dessert, a classic apple crumble is crying for to finish this Sunday meal. Although, I have forgotten to pick up ground ginger and nutmeg from the store, which I normally would use, I improvise with cardamom and a bit of fresh grated ginger, lots of cinnamon, sugar, and everything nice to marinate the apples. As for the crumble top, it's a mixture consists of crushed ginger snaps, old fashioned boring ole oats, brown sugar and melted butter. Zara offered to make custard to go with the crumble. Delicious. Anyone will definitely beg for more.