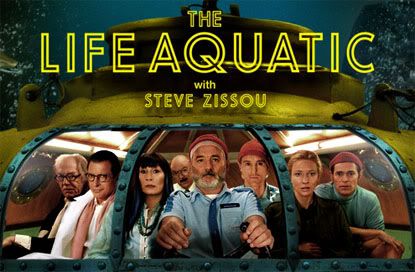 **** USA. 118 min. Colour 2004. Directed by Wes Anderson. Written by Wes Anderson + Noah Baumbach. Cast: Bill Murray, Owen Wilson, Cate Blanchett, Anjelica Huston, Willem Dafoe, Jeff Goldblum
05.01.04.05 @ 7pm FFF: Innis Town Hall with Adam.
I heart this film. This was my second time seeing it, ironically, the first time I saw the film was with his other roommates. Like other
Wes Anderson
's films,
The Life Aquatic
is filled with interesting characters. I always love how his film, in particular
The Royal Tenenbaums
and his latest, has a sense of timelessness to it since he used all these interesting yet wickedly smart vintage looking gadgets in the film. It looks retro yet modern, but quite imaginative, I could never put a finger on when the story is taking place in the past, modern or future.
I love all the nerdy jokes in the film.
Pelé Dos Santos
(played by
Seu Jorge
) in between scenes acoustic Portuguese cover of
David Bowie
,
The Zombies
and
Iggy Pop
was absolute GOLD! My favourite character has to be
Klaus Daimler
(played by
Willem Dafoe
) who always wanted the appreciation to be on the "A Team". The aquasuits scene was tops as well as
Klaus
had shorts and
Pelé
's was sleeveless. I love detailed oriented films, not necessary the plot but the props. I want a pair of Zissou Adidas and the Zissou Society ring!!