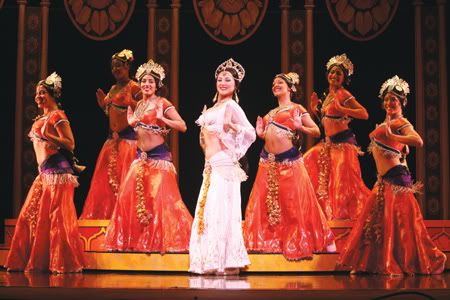 Bombay Dreams
8PM 03.16.08.06 @ The Hummingbird Centre

(1 Front Street East)
Shakalaka baby, Shakalaka baby, Come and shakalaka with me...
It was openning night for the Bollywood Musical
Bombay Dreams
. As I arrived to the outside of the venue, it was packed with people and there were street performers, also vendors selling samosas and chai tea. The promotors really created a good buzz. After I found Amy, we checked in and recieved my "media" pass, we headed downstairs for the reception. The reception was very nicely done. Not only it was open bar, it was also fully catered by a local Indian Restaurant. During the intermission reception, they even served traditional Indian desserts completed with chai tea, and more alcohol of course.
Our seats were very decent, it was Row G, slight off-centre to the left facing stage. The musical is a play within a play of a young man's dream of becoming a Bollywood star despite he was from the slumps of Bombay. Everytime Akaash (lead character) has a solo, we would hear this gleeful cheer from behind us, we later found out it was actually
Miss India-Canada 2006: Sonia Singh
! The show was fabulous, entertaining and full of surprises! Of course, there was also the fabulous choreography and the sparkling costumes! We left the theatre with their catchy single "
Shakalaka Baby
" stuck in our heads for a few days. No kidding. Go watch the video! Ha! Now it's your turn!