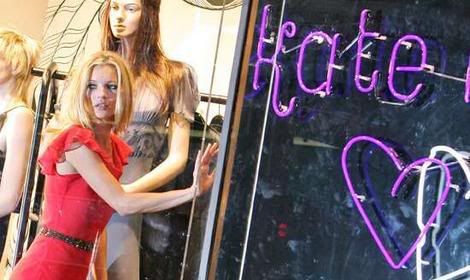 Apparently, hundreds of eager shoppers were queued up outside
TopShop
trying to be the first to see and buy from the
Kate Moss
collection on 30th April. The much anticipated collection is very "Kate" ranging from her signature look: skinnies and waistcoats, wife-beaters, hotpants, mini dresses, lace-up sandals, pointy-toes mary janes and sunnies.
Elodie and I met up after work at TopShop on the day of the launch (1st May). We were there about 7:45pm. Surprisingly, there were still TONS of pieces left from the collection. I spoke to one of the staff, they re-stock the collection 6 times a day and there are new stocks coming in everyday. I feel sorry for the "fashionistas" who queued for hours who hopes to make a few pounds off Ebay.
I was much disappointed at the collection, it was mediocre and overly priced. I remembered liking a few pieces from the website, but they didn't look as well made in person. I really wanted a waistcoat but in-person, the colour wasn't right, it was yellow and black pinstripe, it was actually nice tried on but the colour wasn't what I was looking for. The off-white pleated fitted jacket looked really stylish but I wasn't going to pay £70 for it, so was the one strap pleated chiffon dress. Gorgeous! Again it was £120! The only item that I wanted to buy was the bow tie, but you can buy them anywhere really. I've been wanting a pair of black skinnies, the KM ones are £50, frankly, I rather buy
Cheap Monday
.
This the only celebrity/designer highstreet collection that I didn't buy anything from...