Recently, Candy discovered this amazing authentic Chinese restaurant near Spitalfield Market. It's called "
My Old Place
"
(88 Middlesex Street London E1 7EZ)
, a sister restaurant of infamous Gourmet San of Bethnal Green Road. One must order a couple skewers of the cumin lamb kebab and a few cumin chicken wings for starters. As for main course, I highly recommend this dished called "水煮肉", I forgot what it was called in English, will re-post when I go there again. This dish is a traditional Szechuan dish, it's usually beef, pork or fish poached by stock, then poured over Chinese miso (spicy bean paste) and veggies, also topped off with fried garlic, chilli and spices.
We've been so addicted to this restaurant, I've re-discovered my love for Chinese food and how much I miss it. It has inspired me to make my own version at home and I would love to share this recipe with you. I've used pork here but you can substitute with beef, fried tofu, firm tofu or boneless firm white fish.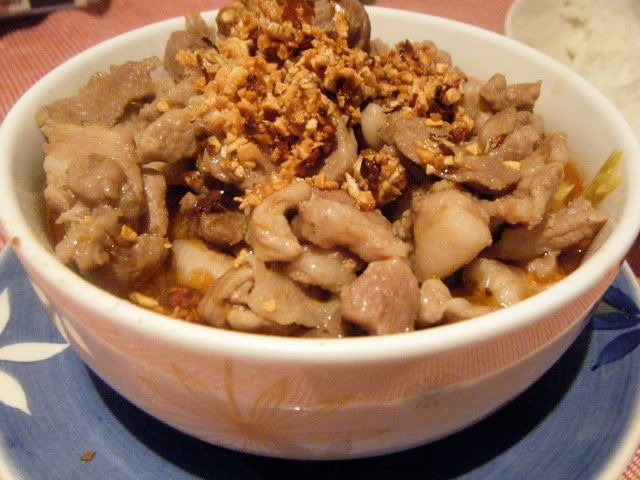 Serves 1
1 Shoulder Pork Chop, slice thinly against the grain
4 Leaves of Chinese Cabbage, slice into 1" pieces
3 tbsp of
Spicy/Chilli Bean Paste
(available in Chinese supermarkets)
1 Small Red Chilli, sliced (if you like it spicy, leave the seeds in)
1 tsp of Chilli pepper flakes (or dried crushed chilli)
2 Cloves of Garlic, chopped (not minced)
5 Slices of Ginger
1 Spring/Green Onion, sliced thinly
1 Small bowl of stock (I made from chicken stock cube and boiling water)
5 Whole White Peppercorn (or Black)
1. Marinate the pork slices with a dash of dark soy and a sprinkle of sugar.
2. Heat 1 tbsp of Spicy Bean Paste in a medium saucepan over medium heat, cook for a minute until fragrant, add the bowl of stock. Boil it then turn down the heat to a bubbling simmer. Add peppercorn.
3. Cook the Chinese cabbage until soften. On the side, prepare a bowl and fill it with the remaining spicy bean paste. When the cabbage is cooked then fish it out and lay on top of the bean paste in the bowl.
4. Add spring onion or "salad onion" as the Brit calls them here to the stock. Use the stock then to poach the meat until fully cooked. Your stock should be a little thicker now, pour everything into the bowl
5. Heat a couple tbsp of olive oil over medium heat, add sliced ginger, cook for a bit, then add chopped garlic, chilli and the chilli flakes. Don't go too close now it'll burn your eyes! Fry everything until fragrant and garlic looks crisp, not burnt.
6. Pour this spicy mixture with the hot oil over the bowl of poached meat. Mix everything in the bowl before you eat. Served with a big bowl steamed jasmine rice.
Note: If you're a bit of a wimp when it comes to spiciness, then don't use the red chilli at all and cut down on the chilli flakes by 1/2. Of course, different brand of spicy bean paste has different level of heat, so I suggest to taste it to test the heat before you're using it by the spoonfuls.