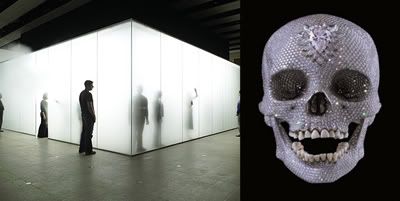 (left) Antony Gormley // Blind Light // 17 May - 19 August 2007
05.29.06.07 @ Hayward Gallery
(
Southbank Centre, Belvedere Rd, London, SE1 8XX
)


(right) Damien Hirst // Beyond Belief & For the Love of God // 1 June - 7 July 2007
04.05.07.07 @ White Cube
(25-26 Mason's Yard, London SW1Y 6BU
)


Antony Gormley // Blind Light
Zoe and I went to see
Antony Gormley's
exhibition at the Hayward Gallery, Southbank Centre. As we entered into the gallery, we saw this giantic metal sculpture on our left and the infamous Blind Light installation in front of us. We couldn't help it but to experience that first. "Blind Light" is a glass room filled with fog, where the audience will became part of the art itself. We couldn't see anything but mist when we were inside, we stayed close to each other. It was bizarre, you can hear people but you can't see them until they came up real close.
Next we went to see "Allotment" which is a room full of concrete blocks which was meant to look like urban landscape. Each is cut out with a cube you can look through them and walk through the concrete forest. Then we went back to the main area and looked at "Space Station". A breathtaking sculpture of metal cubes combining together to form space. The upstairs gallery features his wired matrices of himself. Loved it!
Canada Day in London
After the exhibition we walked to Trafalgar Square to attend the
Canada Day in London
celebration. It was lame. None of the food promised was there, there was no poutine, bison burger was £5. So we went to the Maple Leaf instead. Met up with Matt and Audrey, had a pint of Sleemans and poutine, we went back to the Square and met up with Niki and Paul. K'naan was alright and Sam Roberts was boring. Niki insisted to go back to Maple Leaf, I wanted to meet up with Zoe's mates and Jarvis at The Phoenix. I was so bored at the Maple Leaf, and it was a MISSION to get them outta there. The phoenix was fun, I met Greg, infamous Tommy and his girlfriend Laura, and another friend of theirs. A bit of mix bag of a night...
Damien Hirst // Beyond Belief // For the Love of God
The
White Cube
itself is quite an interesting venue as it is situated in a middle of a square with offices around. We had to queue about half an hour for the viewing of "For the Love of God". Once our group was let through upstairs, it was curated by a security guard with a long list of instructions to put our bags against the wall, and informed us we'll be entering a pitch black room but eyes will get used to it, no touching the glass and so forth. Zoe and I entered the room, everyone's focus was on the infamous diamond skull. It was magnificent! I love how the skull had a missing tooth, it was the imperfection in the perfection. After about 3 mins of viewing, the security thanked us for visiting and our time was up. Zoe and I went back to the front and see the rest of the exhibition. Damien Hirst explores the fundamental themes of human existence -- life, death, love, truth, immortality and art. We first face a series of "Birth Paintings" which was actually paintings of his son's birth, Cyrus, by Caesarean section. The series illustrates the brutality yet tender images of horror and beauty of a childbirth. Downstairs was the series of "Biopsy Paintings" which we found was a bit eerie since it was based on a series of biopsy images of cancer patients with the rich texture of broken glass, choice of redness "blood" and razor blades. We did enjoy walking through the Natural History series, the infamous half shark, half cows, sheep, fish, butterflies. His last piece "Nativity in The Adoration" was the most amazing, it was a knife through a heart with wings, it is where Hirst questions art, science, faith, pain and religion. Amazing!
After the exhibition, we met up with Gavin at Ed's Easy Diner on Great Newport street for some malt shake and Astro Fries. It was amazing! You can read my review here on
TrustedPlaces
. We were soooo full!! We went to See Woo for a quicky browse and picked up some rice noodles and said our byes. It was a good day.
Damien Hirst // White Cube Hoxton Square: Beyond Belief
On Saturday, 7th July, I went to the last day of the Damien Hirst exhibition at the Hoxton Square location. I am glad I went to this one after I've seen the one at Mason's Yard. The collection is a bit smaller. But this time the "Biopsy Paintings" has deeply affected me more, especially knowing they were biopsy images of dying cancer patients and lumps of hair in the paintings. The Hoxton Square collection continues questioning about faith. The first piece as you walked in was the stunning "Saint Sebastian, Exquisite Pain" which was representation of the Saint's martyrdom -- glass tank with a black calf with arrows through the body. "Nativity of The Adoration" showed a medical scenario with 3 dead sheep in kneeling position to a silver baby skeleton. "God Only Knows" featured another 3 sheep in crucified positions. Upstairs was a small collection of the post-birth painting series of Cyrus and his wife Maia.
After thoughts
Antony Gormley challenges the human body as a habitation and how the body form interacts with space, landscape and environment. Whilst Damien Hirst challenges the deeper meaning of the human form: faith, technology, love, life and death. Most Hirst's installations were cast in glass tanks where Gormley's were free structured. Although interestingly enough, Gormley's "Blind Light" was a basically a large glass tank and filled with fog, where people can see the silhouettes from the outside and became the subject of the art form. Are we the cut up shark and dead sheep in this case? I like both exhibition, but reckon I have more emotional reaction to Hirst's collection, I suppose it was more in your face and it questions the higher meaning of life and death. But both exhibitions were well curated and I highly recommended to anyone to see them both.