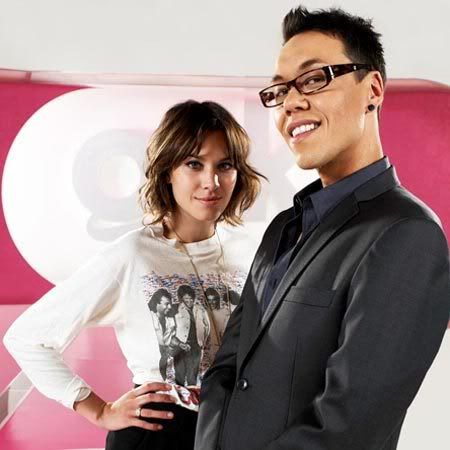 Alexa Chung and Gok Wan in Gok's Fashion Fix on Channel 4
My flatmates reckon I'm a telly junkie, but I swear I don't watch crap TV like soaps and Big Brother! Long awaited "
Gok's Fashion Fix
" premièred tonight on C4. Two of my favourite TV personalities hosting a brand new fashion show - Gok Wan and the stylish Alexa Chung.
In this series, Gok challenges current high fashion trends with the high-street finds. Pick something high-street and make it look expensive whether you're styling by adding accessories or adding to the piece, it's about personalising to make it unique. There were some good DIY tips and ideas there. The bottomline of his motto is to find your own personal style in which he's in search for the most stylish person in the UK (he hasn't met me yet). Nevertheless, there's the Gok's "Must Haves" of the week and some celebrity guests, because you have to. Meanwhile, Alexa takes the roadtest on the trendiest and highest shoes to the test in an ultimate stiletto race and interviewing Roberto Cavalli in his holiday home.
Love it! Gok it! Love it!