It's Kirsty's birthday today. Everyone forgot to make or bring their Spanish themed dish for the lunch party we were hosting for her. I was the only one who brought a dish – Gazpacho (will post recipe tomorrow). So, boss decided we all go out for lunch instead. We went to the local café, which serves both English and Thai food. The owner Richard is English, they make excellent builder breakfast and a good strong cuppa, his wife is Thai, and she makes authentic delicious Thai curries. The lunch was good, but I was quite annoyed that it has totally blown my budget for the week with the present, my hour off for not working and ingredients to make the gazpacho for the entire office.
I had to waste time at Westfield before going to the Barbican screening for "Coco avant Chanel" at 20:45. Bad idea. Sales on and not feeling great = retail therapy. To pay respect to Chanel screening, I dressed up Chanel-esque – I had my hair up, red lipa ¾ sleeve thin black and white striped bodycon dress, a black and gold Chanel like tweed jacket and loads of pearls. As I was walking through the mall, I had one of those Carrie Bradshaw moments where one of the strands of the pearl broke. I froze as I watched the faux pearls scattered to the floor like heavy raindrops. It was a tragically beautiful moment. Not quite sure what to do, I was too embarrassed to get on all fours to collect the pearls, the lady next to me who witnessed it not sure what to do neither. She smiled at me as I said, "so… that's that." I managed to savage some of the pearls left on the necklace, good thing that I make jewellery I can get extra to make and re-chain it.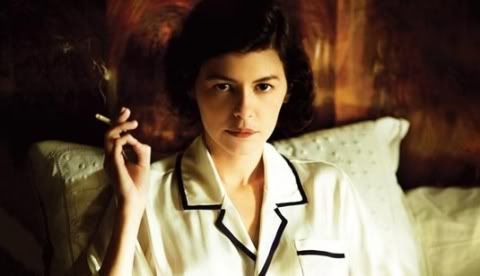 ***** France. 105 min. Colour 2008. Directed by Anne Fontaine.
01.03.08.09 @ 8:45 pm The Babican Cinema 1 E13.
I arrived just in time at the Barbican as I was a bit late and had to find where Cinema 1 was, it's a maze that place. The theatre was pretty full, mostly women of course, the Trojan gays, and a few who got dragged along by their girlfriends. The film was absolutely stunning! I'm not saying it because I love French films and Audrey Tautou. The clothes, ahhh the clothes in the film were just stunning, even the young Gabrielle Chanel's crochet shoulder cape she wore at the orphanage was carefully designed. And of course, Stephen Jones designed all the hats in the film, including Chanel's first millinery shop. I loved the story of Gabrielle, especially the tragic love affair between Coco and Arthur "Boy" Capel and how she transformed to Coco Chanel. The ending was a bit rushed I thought, everything was quite slow moving leading up to Capel's car accident then she suddenly she was rolling out fabrics and next thing you know there were models coming off stairs for a fashion show. I must admit too, the models and their hair and make-up were too modern looking. I thought the film was well captured on how she has developed her own sense of style, how she revolutionise fashion in France and the major inspirations to her signature key looks: the Chanel jacket, the stripes, the signature Peter Pan collar black and white dress and of course, and of course, the LBD – the Little Black Dress.
The film made me wonder on the topic on love and marriage, as it was one of the occurring themes. Coco said, "the best part about love is the making love." She vowed that she would marry no one as her mother married because of love, who also later suicided because her father's infidelity and his abandonment of her and her siblings. In her society, marriage was to gain social status, real love was through love affairs. When a couple is in love, does the label of someone's "girlfriend" or "wife" matters? To me it does. Sure, love affair has the attraction of danger, thrill, lust, the unattainable love, the longing and all the other exciting bits. Marriage to me is sacred (I know, I'm old fashion), it's a life time commitment of love. Of course, one doesn't get married to get divorced but at the same time, one shouldn't married for financial and social status gain. Is marriage just a business contract?