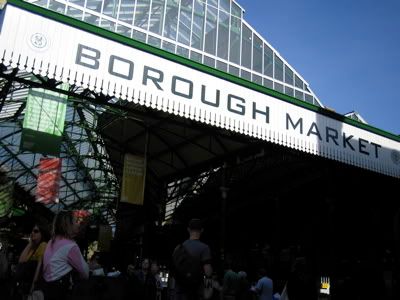 Borough Market Entrance

(London Bridge Station, Borough High Street, Southwark)
Borough Market
Didn't know what to do with my day, Elodie and Andy have gone to Paris for the long weekend, and Annie of course was working. Matt was having a bike around and everyone was either out of town or busy having family affairs. I need more friends. I really miss the girls. I already went shopping the day before, and didn't want to go far, so I thought to go over to the other side of the Thames.
I've been to
Borough Market
before when I was in London last year. I remember exactly where it was. It was very busy, probably because everyone had the day off.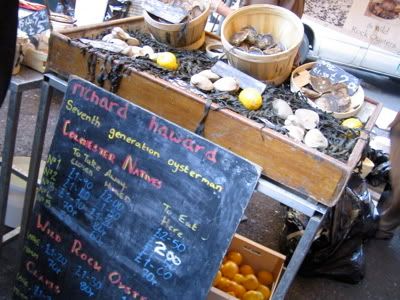 R
ichard Haward Oysters
Richard Haward Oysterman
The
Haward
family started growing oysters since 1792 just a tad off Essex. Talk about local. I started my Borough Market crawl here. I had an rock oyster and a clam. Never had freshly chucked clam before. It was nice. He also has his own shallot vinegarette to go with it.
Scandelicious
Then I moved onto
Scandelicious
. Was a little bit disappointed by their selection, thought they would have other grocer goods as well as homemade herrings and gravlax. Anyway, I bought a small tub of pickled herring.
Ceylon1
Ceylon1
is an organic and fairtrade tea company. They have a beautiful Green Tea Earl Grey, I love their branding and packaging. I bought a tea strainer there and I went on to other homemade jam, chutney and marmalade stalls.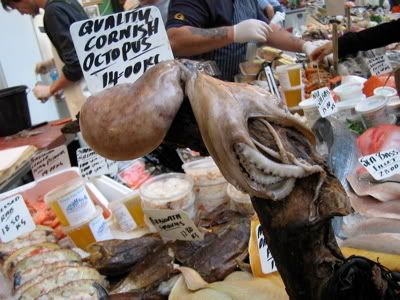 Furness Fish & Game
Seems to be the most popular, they had a huge octopus on display. All sorts of mackerels, salmon, tuna, sea bass, smokies. They seem really fresh, was tempted to get some tuna but that also meant i couldn't browse longer and would have go home immediately to fridge it. The only thing I didn't like about this stall is that they had some poor dead rabbits hanging on the wall.. and made me sad to look at it. I have a better pix from last year but I'm too lazy to blog that. You can see it on my London Loves DVD though.
West Country Venison
Around the corner of
Furness Fish
, this stall has the longest queue for their sausage and sandwiches. A mere £3.50 can get you a delicious sandwich with venison burger or sausage served with a bed of rockets, fried onions and your choice of condiments, I had it with black current chuckney last year. I couldn't be bothered lining up this time coz the line up was insane. (Again, you can see the pix in my London Loves DVD)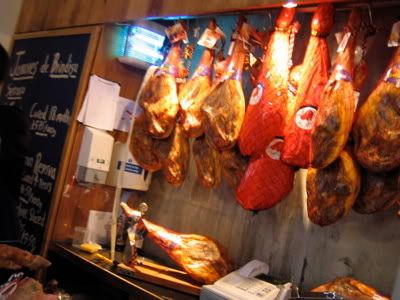 Brindisa
Brindisa, the Spanish deli at Borough Market, London, serves up hand sliced Pata Negra Serrano Ham. You can buy the entire leg and leg holder to slice it up at your leisure.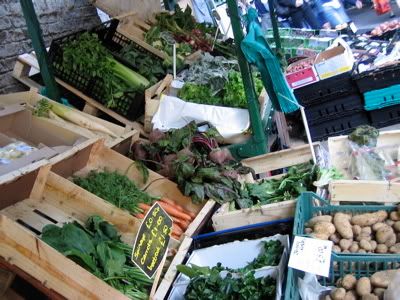 The Wild Mushroom Company
Organic! Organic local home grown. Has all sorts of organic fruits, veggies and mushroom varieties.
Real France
One of my favourite stall, they have fresh
Beurre d'Echire
and also these
Ferme des peupliers
"oeufs au lait" like yogurt that comes in little glass jar, they're the cutest thing in the world! It's 4 for £3.50, or you can buy them for 1 quid each. They cost £1.70 each at Selfridges. I bought 3 "créme caramel" flavoured and 1 cappuccino flavoured.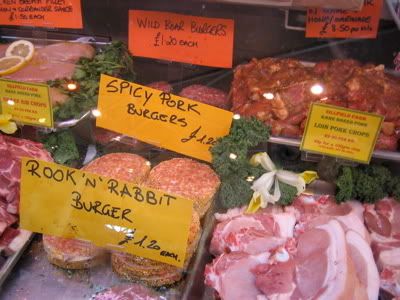 Sillfield Farm
This is where I got a bit excited!
Sillfield Farm
located in South Cumbria. They have own smoked bacon of all variety. Also have variety selection of sausages and boar. I bought these "rare breed pork" sausages. I txted Annie to see if she's up for having Wild Boar Burgers for dinner, she said she was in. It was delicious. Very different taste, it was almost like a beefy pork. I quite enjoy it.
Utobeer
This stall carries all sorts of beer around the world. I got really excited when i saw the range of
Unibroue
brewery from Québec. Blanche de Chambly is one of my favourite as it forever reminds me of spending hot summer nights at the Embassy in Toronto. Their pear cider selection wasn't too great. They had that Ikea brand which i wasn't too fond of. So the search for Golden Cap Pear Cider in London continues...
The Ginger Pig
Heard loads about this place, they were recently nominated as semi-finalists for "UKTV Food Local Hero 2006". The flagship store is actually in Marylebone. Wide selection of sausages to pies. They looked really good and the stall was busy. Didn't get anything from there since I've already bought stuff at Sillfield Farm stall.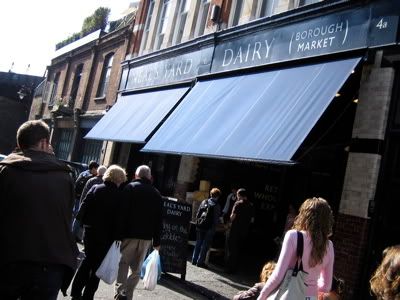 Neals Yard Dairy
Had the most wonderful cheese sampler today. It was called "Winworth" or something, I can be wrong. I wasn't going to try it because it has the mouldy crust which I hate but it was very very creamy and the mouldy crust wasn't too bad. This of course, is also an award winning dairy shop.
Paul Smith

(13 Park Street SE1)
Paul Smith
Located just shyly tucked on the edge of Borough Market, this cute tiny
Paul Smith
store also carries a small range of novelty gifts and a small collection of the current line. I saw some really nice runners there, but I wasn't allowed to spend.
Have to sit down and have some sugary tea...
It was such a nice day, Borough Market was packed with people. All the neighbouring pubs had people overflowing onto the curb having pints. Keeping my "I don't drink alone" mandate, it had to hold out on my craving for a cold pint of Magners cider. I walked further down Southwark to the
Braham Museum of Tea and Coffee
instead for an afternoon tea. I had a scone served with cream and jam, and also a proper brewed pot of ceylon tea.
So i bought from the market today:
1 small tub of Pickled Herrings from Scandelicious
100 g Basil Pesto from Borough Olive
1 Oyster & 1 Clam from Richard Hayward (he's also a very nice man)
100 g Fresh French butter, 4 French Oeuf Yogurt in glass jars (3 in Créme Caramel, 1 in cappuccino) from Real France
2 x Wild Boar Burgers from Stillfield Farm
200 g of Rare breed pork sausages from Stillfield Farm
1 tea strainer
Had to most wonderful sampled cheese from Neals Yard Dairy
You can see my complete photos of the day
here
.
I headed back to Hackney after my afternoon tea. Went to the local
Primark
and bought the cutest baby yellow summer dress for £8! Then, I went to
Tesco
and picked up some buns and chips for dinner and I headed back. Tried on the new dress and wanted to take a photo with my
Anya Hindmarch
bag. As i was playing around with my camera, flipping back and forth from viewing to photo mode. The screen went black!!!! I'm so upset. I bring this camera with me everywhere, everyday! I cannot imagine to live without it. Though my beloved
Canon SD10
has been good to me for the past 3 years. It was getting a little wonky at times. I was going to hold out buying a new one, but we'll have to see if this is fixable. After some research on the interweb, it might be a "ccd" sensor malfunction,
Canon USA
apparently will replace and repair for free (including shipping and handling), alas, I live in the UK. Not sure if they'll repair it here. Will be on a mission later today trying to get it fixed, if not, will have to buy another. *sigh*