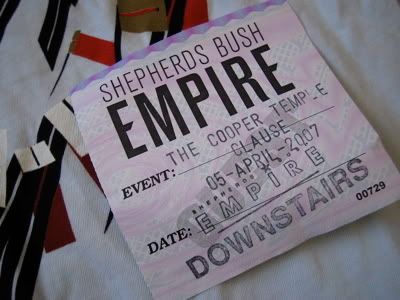 My TCTC tee and ticket stub
After shopping, I went home to drop off my shopping and to change quickly before I head to Victoria Station to meet Cecile and David. Cecile is a friend of Audrey's. Audrey txted me the day before asking if I was interested to see
The Cooper Temple Clause
on Thursday. Cecile and David were arriving from Bristol, never met them but we've been txting for the past couple of days.
The Cooper Temple Clause // Kubichek
04.05.04.07 @ Shepherds Bush Empire
(Shepherds Bush Green, London W12 8TT)
I was running late meeting Cecile and David at the station. Who knew there were two different entrances. We missed a couple songs in the beginning but we managed to squish our way to the front. It was loud. It was a great show. Cecile and I were singing to the songs and dancing the entire time.
Head
Been Training Dogs
Waiting Game
Damage
Film Maker
AIM
Connect
Once More With Feeling
Music Box
Homo Sapiens
Promises Promises
All I See Is You
Who Needs Enemies
Blind Pilots
---
Written Apology
Let's Kill Music
Panzer Attack
I tried to look for Steve Lloyd to see if he was doing sound for them. There was a bald guy behind the soundboard alright, but if only Steve put on A LOT of weight! I didn't approached him. Cecile wanted to wait for Jon and thank him for guestlisting but we couldn't get anywhere near the stage after the show was over. I bought the last scoop neck t-shirt. We had time to kill before she has to head back to Tottenham Court Rd to meet up with David, so we went for a drink. The pub beside the venue looked closed, so we headed to the
Walkabout
. We had to leave immediately upon stepping our foot into the door -- gino beats were on full blast! We quickly left the bar and tried to look for another. The pub we thought it was closed was actually open,
O'Neills
(2 Goldhawk Rd, London, W12 9NT),
so we went in for a drink.
As we were heading towards the tube station, Cecile suddenly remembered she has forgotten her camera at the venue. So we went back to the venue and luckily, it was still opened and the security made her signed for it. We caught the last train. I didn't went with her to Tottenham Court Rd, I stayed on until Bethnal Green. I couldn't sleep after I went home, I didn't take valerian root, I was still a little tipsy and thought I would be exhausted from walking and dancing. I reeled in bed for 4 hours. I am starting to think that I seriously have a sleeping problem.