Yesterday I had an interview with
Channelfly
at noon with Kat and Tom. I'll be interning couple days a week to help out with graphics and other random things for
The Great Escape Festival
.
Golden Fish Bar

(102-104 Farringdon Road EC1)
Golden Fish Bar
I've been wanting to try out their fish and chips for ages. Since I was in the area, thought to try it out. This family-run fish n' chips shop has been around for 150 years. I love how their décor was very 70s but yet cozy and quite clean. There is a daily special on the wall which changes as the day goes on.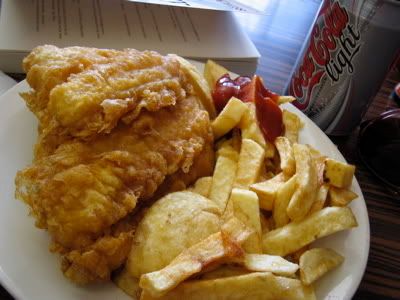 I had Rock and Chips with a diet coke. The fish was moist, fresh and the batter was very crispy. The fish was better than
The Laughing Halibut
(38 Strutton Ground, St. James Park SW1P 2HR)
and
Fryer's Delight
(19 Theobald's Road, Hoborn WC1X 8SL)
. Having said that, the chips were a little disappointing as they were not very crispy. The best chips I've had in London so far was actually at the
ICA
.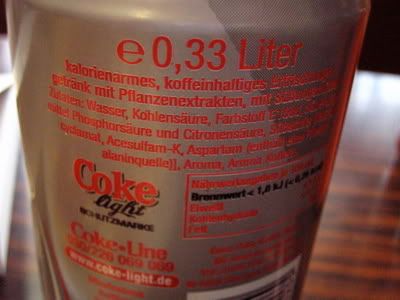 Notice that it wasn't a Diet Coke but it's a Coca-Cola "light". When I flipped to read the label, it's all in German!
Exmouth Market

(Farringdon Rd + Roseberry Ave)
Exmouth Market
Post lunch I went for a walk in the area. I dropped by the
Exmouth Market
. I've been there once before with Nina, Amy and Elodie, when Golden Fish Bar was closed and searched for alternatives. There were food vendors on the street, everyone was on the patio having lunch and a pint. Along the street there are lots of cute little independent shops from unique clothing to handcrafted gifts and organic cafés. It was lovely.
Leather Lane Market

(Leather Lane - Wed-Fri, 10:30-14:30)
Leather Lane Market
Continuing my journey to Oxford Street, I walked along Clerkenwell Road on-route to Holborn, I discovered Leather Lane Market. Almost like the Strutton Ground Market, the market is catered to local office workers going to graze during lunch hour, whether they're picking up sandwiches for lunch, or buying quick fruits for home later or looking for cheap clothes, shoes, jewelleries or designer knock-off handbags. Everything is here, prices are quite keen. A few stalls have overstock from TopShop and Miss Selfridges.
The market essentially lead me to Holborn High Street. Then I went to Oxford Circus and bought some cute summer shoes from H&M: red patent peep toes with ankle tie, seersucker sandals. Then I got a call back from Kat, I'll be starting my internship on Tuesday. I'm quite excited though it's too bad that the position is non-paid. At the very least, this internship will keep my mind occupied, people seems kewl working there and I love meeting new people, hopefully I can get a good reference from it, and I can put this as my "UK work experience" on my "CV".
Bought this amazing strapless laced dress at
River Island
for a bargain of just £10! I was going to check out the new
Primark
at Oxford Street but since it was opening day, there was an insane queue both ways around the entire block. I couldn't be bothered, there's a Primark 5 minutes away from where I live.