Ottawa (15/23/04 - Captial Music Hall):
We left the city around 3pm, major traffic in Oshawa, got into Ottawa by 8:30pm. We were surprised how cheap Ottawa's parking was! Ottawa was freezing! My toes were frozen from waiting for Meghan outside the venue. After we met up with Meghan, we went to the riverside for Beavertails but unfortunately it was closed!! So we messed around at Sugar Mountain, that's when i realised i've lost my black lightning bolt earring but funny that i totally remembered where i dropped it, it was near 9:50pm, we said our byes and went back to the venue. Found my earring, checked off guestlist and went into the venue..
Projet Orange
was already on stage playing the last song. They were good performers (saw them the day before in Toronto, but just the music wasn't my cup of tea.) Venue was quite small and it has a balcony.
At 10:10pm,
The Music
came on. Ren was on Adam's side, Ei & I went over to Stu's side (coz it was empty), poor stu had to deal the entire nite with half dead monitor, dead mic for the drums during
Bleeding from Within
, he slammed his bass as he left the stage. Rob sounded better tonite than last nite but the band looked exhausted. We got a chance to catch Phil as we were leaving, we asked if Chris was around because we had gift for him to say thanks for guestlisting us for all the shows. He said he was inside could give the stuff to him and give to Chris but we insisted we'd wait til tomorrow to thank him personally.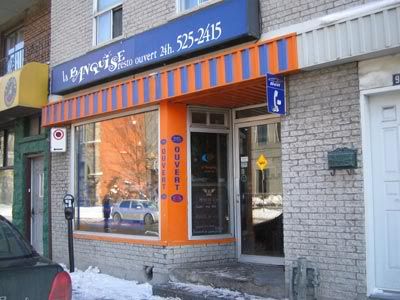 Casse-Croûte La Banquise has more poutine options you can ever imagine!
Montréal (16-17/12/04) :
So at 12:15am we left Ottawa to Montréal we go. We arrived at Montéal at 2am. We unloaded our luggage and went to
Casse-Croûte La Banquise
(994 rue Rachel Est - 514.525.2415)
for take-out poutine. Ren and I had the Poutine Dan Dan (Pepperoni, Bacon and Sautéed Onions) and Ei & Amy shared the Poutine Classique. It was a total heart attack but it was soooooo good!
The next day, we slept in and went to
Frites Alors!
for brunch. After we ordered, Amy and I sneaked out to get a birthday present for my client at the cutest shoppe ever on St-Denis & Duluth,
Au Festin de Badette (4085 rue St-Denis - 514.849.0214),
handmade chocolates & gifts, great selection of gourmet specialty teas, salt de mer, olive oils and pastas... etc. Amy raves about their Hot Chocolate there, we *HAD* to go back! After we ate, i departed from my mates and head onto
Sears Canada
(3075 Thimens Boulevard)
to meet my client. She gave me a grand tour of the building and we went for a coffee. After that i went back to meet up with the girls, as i got off at Mont-Royal, i went for a bit of shopping on my own and bought 2 tees for $10 at
Kokawaii
(827 rue Mont-Royal Est - 514.522.6252).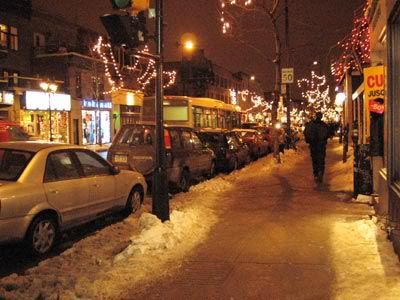 Night street of Mont-Royal with Christmas lights.
Met up with the girls back at the flat and we were still full from brunch so we decided to go back to
Au Festin de Badette
for Hot Chocolate & Croissant instead. When people say chocolate is better than sex, at this shoppe, it's ture!!!! Their café had variaties of teas and coffee, slushes (there's even a dark chocolate slush!), sorbet and hot chocolate. Highly recommended the chocolat chaud de Badette (with cinnamon, cardomen), there's also one with 70% cocao. Their croissant is out of this world, it's buttery, it's flaky, better than our very own
Clafouti
!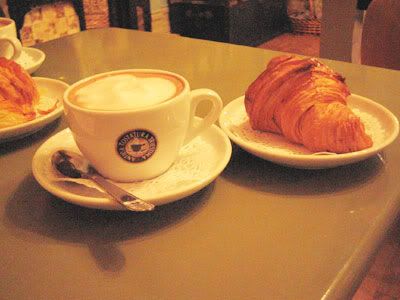 Our Sweet Indulgence at Au Festin de Badette.
After the sweet indulgence, we headed to the venue
Club Soda
(1225 St-Laurent - 514.286.1010).
As we got off the cab, a sculper approached us, we told him we're going to a different gig, he informed us it was cancelled, we thought he was joking. As we walked to the door, there was a sign posted saying the show has been cancelled and rescheduled for a later date! Gah! Disappointment, we walked on St-Laurent and headed back to the flat, rent a film (The Stepford Wives), bought a
PC The Decadent Molten Chocolate Cakes
, the best thing EVER! At around Midnite, we ventured out to
Schwartz's
we each bought a smoke meat sandwich, and we walked around St-Laurent, peaked into
Bifteck
to see if we see any indie rockstars chilling out, didn't see any. They sent me into
Le Pistol
to check, didn't see anyone neither but there were many hott guys there! Perfect opportunity to wing each other! But we didn't stay, we headed home and finish our movie & sandwiches and called it a night.