Toronto (04.12.05.05 @ 5:45pm):
Gah! So much work to do in the office, unfortunately i held everyone up i couldn't leave the office until 5:45pm.. i *finally* called eileen:
me: hey, where are ya?
eileen: We're on a side street..
me: where?
eileen: walk south on Spadina you'll see it.
me: erhm, okay.
eileen: we're in a PT Cruiser.
me: you're in a WHAT???
eileen: A PT CRUISER. A PURPLE PT CRUISER.
me: YOU MUST BE KIDDING ME!!!!!!!!!!!
Windsor (10:30pm):
We finally arrived Windsor but it was too late to meet up with Marla since she had to work early the next morning. We drove to
Hurricanes Roadhouse Restaurant

(3217 Sandwich St - 519.255.1833)
for their Oreo cheesecake, but they've changed the recipe.. :( we found a Travelodge and we stayed there for the night.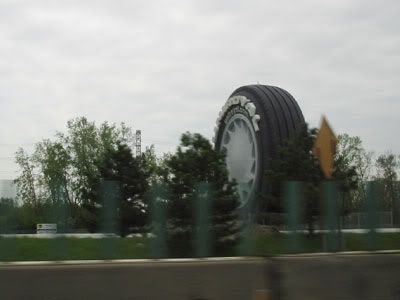 Windsor (05.13.05.05 - 11am):
We're on the road after we've checked out from the hotel in Windsor. Passinig the border was a breeze.. passed the infamous big arse tire in Detroit!! We arrived in Chicago with traffic, we're staying at Double Tree Hotel in the suburbs.. but it's a nice place and they give you amazing oatmeal chocolate chip cookies. Across from our hotel is a shopping mall (it's more like a village coz all the stores are outdoor but looks like a mall from exterior, weird), it has a location of Cheesecake Factory *gasp*!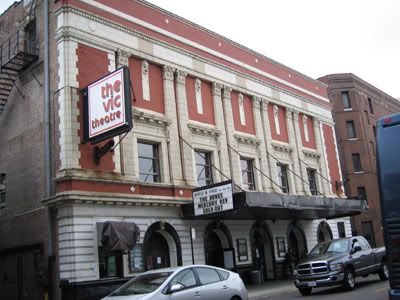 Doves // Mercury Rev
05.13.05.05 @ The Vic Theatre
(
3145 North Sheffield, Chicago IL
)
// Sold Out
Eileen + Elsie + Renuka

Chicago (5:45pm):
On this trip, every time Ren gets behind the wheel, we tend to get lost.. after some lost and found, we finally arrived at the venue at 5:46pm. We've been circling around the place trying to find parking until i spotted the Twins and Martin crossing the street. They dropped me off so i can talk to them to ensure we're on the guestlist but they went into a Thai restaurant. doh! I walked around the venue and Alex Grant saw me, he gave me a hug and said "I didn't know you're coming, you shoulda emailed me." so we talked for a bit, then Jimi Goodwin came by gave me a hug, did some small talk.. etc. After we situated our car at the hospital nearby, we walked around for a bit trying to look for food and we did some shopping, actually Eileen did, not me. *shock shock shock* I saw Coatsey as i was waiting for the girls in front of a pharmacy, he took care the guestlist for us. Then we went to the same Thai restaurant that the Twins & Martin went. I had a tofu green curry with rice, it was yummy.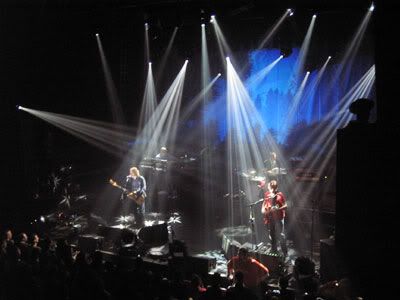 7pm:
The guestlist is not out yet, and heaps of people went inside already. We spotted Angela (the chubbier one - one of the Detroit biatch from Idlewild) but her other Angela partner in crime wasn't there, figured she was there to see Alex. Anyway, we finally got into the venue. The venue is interesting, it is general admission but it has levels, side balconies and upper balconies are seated. Eileen didn't want to settle for 2nd row, so her and i retreived to the upper balcony.
Mercury Rev
was the opening band for this tour. We've seen them before couple years ago with
Oasis
which we thought they were kinda boring. Their performance was good, interesting visuals, but i'm not sure about the singer's voice and his "moves" trying to illustrate the lyrics about being a white horse and tides to the moon.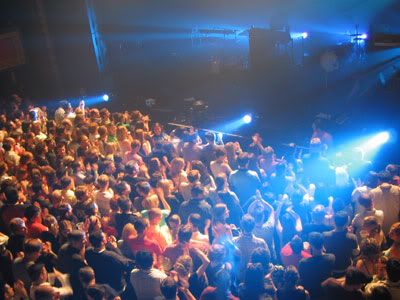 Doves
' set was amazing, they started off with
Pounding
,
Words
(one of my favourites) and
Black & White Town
(which totally made me want to dance but i couldn't because i was first row on the balcony). They played lots of the new material from
"Some Cities"
but it was also a good mix of old favourites. The crowd was good, as you can see from the pix, it was packed. Encore they did
Here it Comes
,
Satelites
and ended the evening with
There Goes The Fear
. The band said they were real rusty that night, they were fighting jetlag and it was the first show of the tour since the cancellation. We watched a bit of the crew trying to figure out the "puzzle" then we headed off to our suburbia hotel.. and of course, we got lost and went down near Chinatown. Ren saw a police car and stopped and asked for direction, she was talking to them for a long time and laughing.. she informed us that they were arguing which was the best way and then decided to escort us to the highway.. we stopped at a red light, the cops told us to go ahead there's no traffic, we hesitated but i guess it was okay to break the law when the cops told us to.. so we did. We were all like "CHICAGO POLICE RAWKS!!!!!"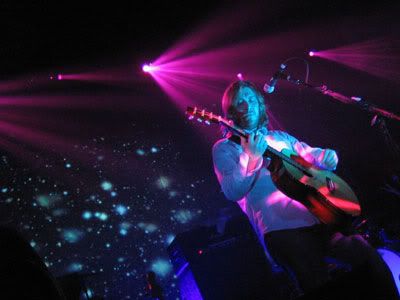 Doves // Mercury Rev
06.14.05.05 @ The Majestic Theatre
(
4120 Woodward Ave, Detroit MI
)
// Sold Out


Eileen + Elsie + Renuka

Detroit (06.14.05.05):
We drove back to Detroit, on route we stopped at Denny's because we couldn't find and missed the IHOP. We were the only "ethnic" people at Denny's.. and we were grossed out by the amount of food we got. On this entire roadtrip, we were listening to
Embrace
,
Arcade Fire
(repeatedly),
Kasabian
, lots of
Doves
of course, some
Charlatans
&
Kaiser Chiefs
, and of course our "Blow Up" mix CD. We got in suburb of Detroit around 5:30pm, since we were going to go to Karen's place first. We managed to get a side spot in the front for this show. It was the same setlist. There was a technical difficulty during
Here It Comes
, boo.. it was funny becuase, they played it til where Jimi comes in and then stopped.. but Martin played the piano bit at the end to finish the song up haha.. they went ahead and finish the others.. In general, we thought the band sounded better last nite but we definitely had more fun at this show because we were up close and be abled to dance and sing to every song! It started to rain, we didn't stay long and we didn't want to be too late since we're staying over at Karen's. So we only talked to Alex and left. The Idlewild biatch were at the show, she was on guestlist too.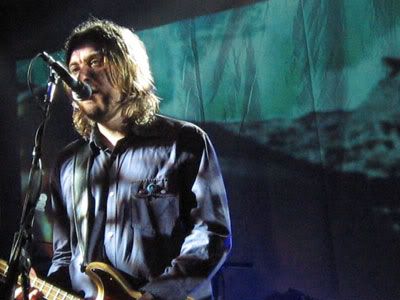 Doves // Mercury Rev
01.16.05.05 @ The Koolhaus
(
132 Queens Quay East

,

Toronto
)

Eileen + Elsie + Renuka

Toronto (01.16.05.05):
Our last gig of this tour, well for Eileen and I anyway. Eileen arrived at the venue by 4:30pm, she spoke pretty much to everyone.. she called me around 6pm to see if i'm leaving yet and told me that we're good on the guestlist and even for 2 shows in New York. haha but we weren't planning of going to NYC! We got used to
Mercury Rev
, their drummer is awesome but we still can't get used to the singer's "moves".. we still crack up every time he does the flying horse move.
Doves
were awesome, it was the same set again but they sounded really good considering it was Koolhaus, the crowd was surprisingly good. I swore, they were going to play
Spaceface
as a second encore but they didn't and i guess Koolhaus is always tight about curfew as well. We stuck around for a bit just to say bye to everyone, but we only talked to Jimi. We got to meet Paul finally!!! Too bad Baz wasn't on this tour, haven't spoken to him for a while too. I hope Baz and wee Issac are doing fine.. It was great to see everyone again, until September..