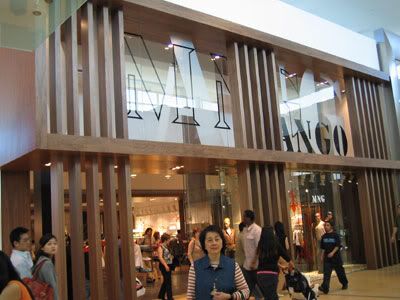 I've been a bad daughter, i haven't spend much time with my mother lately.. too many gigs, too many parties, i'm hardly home to have dinner with her. So, being it her day today, I took my mum to
Yorkdale
for a bit of shopping (okay, mostly shopping for me, which i SHOULDN'T be spending, damn income tax! More about that later). It's so funny, she said it's like a day trip everytime we go there because of all the transferring. I haven't been there since the renovation, there are so many new stores there now:
Sephora
,
Mango
,
H&M
, Escada Sports, Marciano for Guess, Old Navy,
Zara
, Billabong, Tommy Hilfiger & Tommy Bamahas.
Mango
was a bit of a disappointment, it was more like
Zara
's casual line but the prices are not too bad, $12 for a cotton tank.
H&M
though it has 2 floors but it didn't seem that big, the selection was okay, pretty much the same as others.
Sephora
is about the same size as Eaton Centre but they seemed to have a bit more selection or new merchandise. I always <3
Aritzia
, they have a sale for these 3-in-one
Minnetonka moccasin boots
right now which, i've been waiting for them to go on sale since October! I bought the sienna brown ones, they are wicked coz they included interchangeable feathers and beaded tassels!! After shopping, my mum and i met up with Eileen for Korean food at K-Town.