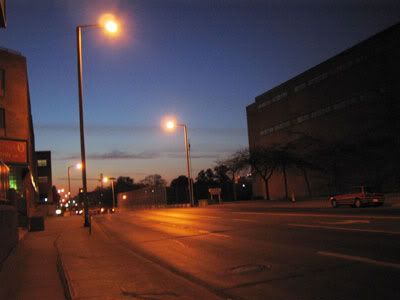 03.18.05.05: Leaving on a WestJet Plane
I went over to Heather's at 2:30am and hung out until 5am, then i bussed to the airport, i was kind of intimidated of travelling alone at first but the Airport Rocket was actually quite convenient. The flight was fine, i had window seat all by myself, i didn't get to sleep much because i was too excited to look outside the window (see pix on
pixblog
).. i saw Regina, i missed Alberta - was totally sleeping, i saw the Rockies. Throughout the entire flight was sunny, as soon we hit Vancougar area, it's been all cloudy, period of sun and mostly rainy.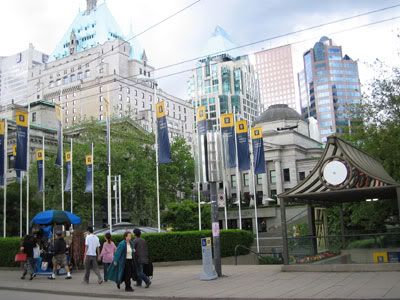 04.19.05.05: Vancougar Day I
The plane landed at 9:30, took the bus and went to Stan's posh apartment by the water at 10:30, i settled in and then we went for sushi lunch, so good! then i went shopping on Robson, and Kimmy called say she's in town.. so i waited for her and then we went to the
Vancouver Art Gallery
($5 after 5pm on Thursdays), and we saw a photography exhibit (
Real Pictures: Photographs from the Collection of Claudia Beck & Andrew Gruft
- "Cocks & Flowers" photo montage was the best!!!) and some permanent collection of
Emily Carr
.. how cultured! Then we got rained in so went to have dinner at the
Howard Johnson's
Restaurant called
Wildfire Bar & Grill
(1162 Granville St - 604.682.3474)
, we shared a calamari, Kimmy had steamed mussels and i had a tuna and mango wrap. It was good! After dinner we were soo sleepy, along with shitey weather, we went back and hang out at Stan's watching
Seinfied
, but totally missed Jason's call..
05.20.05.05: Vancouver Day II
Kimmy accompanied I and did all the tourist stuff, went to Gastown and some vintage shopping at
Deluxe Junk
( 310 Cordova Street - 604.685.4871)
. We saw the steamed clock, as it was 3pm, it
hooted the famous Westminster Chimes ("Big Ben" theme
).. soooo cheeseball!! Kimmy and i were dying laughing as all the German tourists were all in awe. On the way back to the apartment, we went by
Scratch Records
(726 Richards Street - 604.687.6355)
, and we passed by the
Comtemporary Art Gallery
(555 Nelson St - 604.681.2700)
where there was this wall outside with lots of expression buttons, Kimmy and I joined in the pins picking wave. It was awesome, everyone was helping everyone getting the pins at the top with their umbrellas. We quickly dropped off our shopping, changed and went to the venue. We didn't really see anyone other than Alan, David, Brad and Donny, it was starting to spit a bit so we waited by the venue and chatted with strangers and Inge until it was time to meet Mike.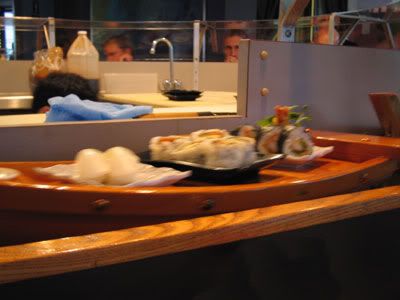 7:30pm: What make these boats go around and around?
After Mike arrived, we walked to Robson and went to this restaurant called
Tsunami Sushi
(238-1025 Robson St - 604.687.8744)
which was a rotating sushi bar. We had loads of fun.. it was good too.. yummm!!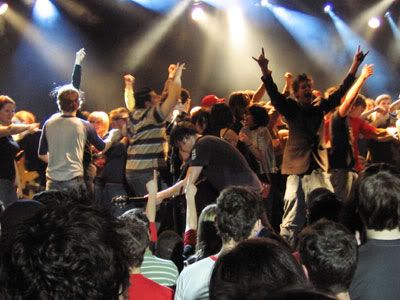 ... And You'll Know Us By The Trail of Dead // The (International) Noise Conspiracy // We are Wolves
05.20.05.05 @ The Commodore Ballroom
(
868 Granville Street
)

Kimmy + Elsie + Mike
Gig 43: Trail of Dead // The (International) Noise Conspiracy // We are Wolves
Guestlist problem, Mike wasn't on (gahh! Donny!!). As we went in,
We Are Wolves
were just coming on stage.. i've seen them before openning for
Death from Above
, i remembered i didn't like them too much, Kimmy was up front, Mike and I were further back. 2nd half of their set got better.
The (International) Noise Conspiracy
was AMAZING!! HOTT SWEDISH BOYS IN MATCHING OUTFITS! sooooo awesome! it got a bit rough, i moved further back for this set. Then after the set, i found Mike.. so we went further back and we chatted,
Trail of Dead
was really realy good, the crowd was rough but we were safe. There was a stage invasion!!!! But i didn't participate in this one.. i was too further back.. but it was so awesome to witness.
Backstage:
Eilis (Conrad's Mother - coolest mom EVER!!!! She has more friends than Conrad on myspace!! And she ocassionally spread rumours about Conrad hahaha) could only get 2 passes.. So we waited around for Lee and asked if it's okay to bring mike in as well.. of course we could! so easy! So the band all hugged me when they saw me.. Danny curled up on the couch, he was about to pass out. The only one i didn't get to talk to was Kevin. Eilis asked if Mike was my boyfriend, i said "erhm, no" then she bluntly said "Well, he should be!" haha it was quite embarassing... Oh Eilis!! I drank half a beer then Jason announced there's an after party at this club called
Shine
down by Gastown. so Kimmy, Mike, Jason and i cabbed there..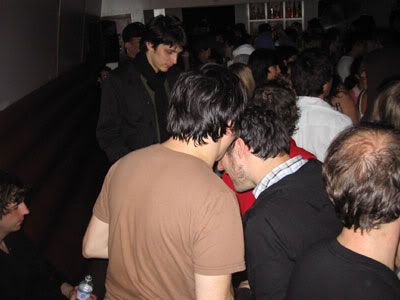 The After Party: Shine
Jason did some "talks" and got all of us in for free.. Mike and I lost track of Kimmy and Jason as the party was at the back room of the club.. front of club were all top 40 hip hop.. the music was good at the backroom, we all drank and danced the night away, i bumpd into my friend Karen!!!! How ridiculous was that? Even in Vanoucver, I bumped into peeps!!! All of
Trail of Dead
(except for Kevin of course) were all there, danced with Alan, David, Alanna, Conrad, Jason and Donny.. Danny was being a bum, he just sat and drank water all night. Lugwig, new keyboardist and Denis from
T(I)NC
were there. We had so much fun dancing, i broke and lost part of my great-grandmother's bracelet watch, Mike was so sweet, he helped me look for the missing parts and we found them all!! Phew!! I nearly cried!! As the party ended, 3am, we were all outside making plans, Mike wanted to see the steamed clock.. so we took off to see the clock, we took some photos and went back to find out there was another after party after the after party.
The After-After Party:
Was it an abandoned bar or was it someone's apartment?
The host Patrick turned down a few people going in, but Lee pointed at Mike and I and said we're okay. So we went in, it's good to know the right peeps.. hehe! C'mon, what's a vacation without partying with some locals?! The place was quite run down, Mike and i were mostly by the couch chatting as others were smoking up.. then i left for a bit and saw Jason by the "bar", so i joined in their conversation about an art documentary called "How to draw a bunny" about this artist named
Ray Johnson
.. I met Dani from the
Cadeaux
!! It was almost dawn, we decided to leave.. Lee agreed to give Kimmy and I a lift to Seattle if we could meet them at their hotel lobby by 10am.. Mike, Kimmy and I left the party at 5:30am, but we couldn't find a cab.. so we decided to walk in the direction of where we were going.. and ended up walking home instead..
06.21.05.05: THE AFTER MATH
Having just 3 hours of sleep, I woke up with a massive pounding headache, didn't felt too hott. I asked if Kimmy mind if i ditch out Seattle.. after she left, i took a couple of Advils but i couldn't went back to sleep.. so i decided to go about town. I stopped off in Yaletown and had lunch at a little French Cafe called
Boulangerie la Parisienne
(1000 Mainland St - 604.684.2499)
then i went down to the Waterfront and saw
Canada Place
. Then i took the
Skytrain
to
Commercial Drive
- which was a disappointment, it was so not "hipster" at all, it was more like hippies with lots of organic, doobie and vegan shoppes. I did manage to buy a cute vintage skirt at
Virgin Mary
(1035 Commercial Drive - 604.844.7848)
. I rang up Mike and told him i didn't go to Seattle and see if he wanted to hang out later in the evening. I went back to the apartment to chill, wrote some emails and postcards, watched
Saved
and
Fubar
. It basically rained all day and night, Mike and I met up at a 24-hr cafe called
Blenz
for some hot cocoa. We both tried their dark belgium hot chocolate, it was delicious! It was no
Au Festin de Badette
(4085 rue St-Denis - 514.849.0214)
, but better than the
Starbucks

' Chantico
. Apparently there was someone wanking in the bathroom.. heh heh.. We talked for 1.45 hours.. i thought we have lots in common. It was odd, found out that we used to hang out at the same places but we have never met. It was around midnite, we made plans to get together the next day as he walked me home.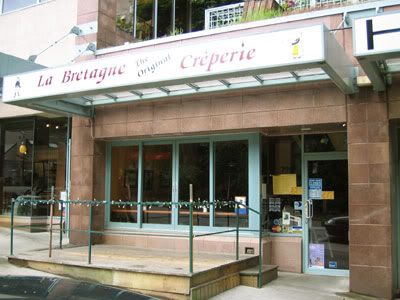 La Crêpe Bretonne
(795 Jervis St + Robson - 604.608.1266)
07.22.05.05: Rain, Rain Go Away!
As planned, i met up with Mike at his hotel lobby at 11am. The weather was not cooperating at all, it rained the entire time. We walked around to find a place for brunch, initial plan was brunch then a walk at
Stanley Park
if weather permitted. We walked for a while but couldn't find anything, it was also a Sunday i suppose.. We finally found a cute little French crêpe place called
La Crêpe Bretonne
(795 Jervis St + Robson - 604.608.1266)
, it was packed but we didn't have to wait long to be seated. The crêpe was quite authentic (even the staff has a French accent!!), it was just like the ones in Montréal. Très délicieux! Of course whilst we were inside the restaurant, it was sunny outside, as soon as we left the restaurant, it was pouring again. We decided to go to see a film instead. We went to
Konbiniya
(1238 Robson St - 604.682.3634)
a Japanese convenience store and bought snacks then went film hunting. We first went to the
Paramount
theatre but nothing interesting was playing.. then we ventured to the
Cineplex Odeon on Granville
and we saw
Crash
. At around 3pm, i walked him back to his hotel as he had to head out to the airport heading back to the UK, we said our byes then i went to
Chintz & Company
(950 Homer St - 604.689.2022)
and bought Stan a gift, then walked back to the apartment.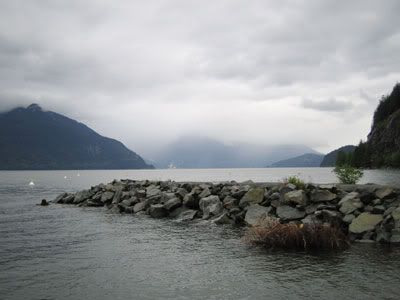 4pm: Drive every mountain then to the sea
Stan did a quick clean up, we had to leave the apartment because his landlord was bringing someone to see the place. So we went for a drive then Kimmy called so we went to pick her up at the
Holiday Inn

on Howe
. Then Stan took us for a ride up the mountains to this place called
Porteau Cove
, Kimmy and i took some crazy pictures and we touched the ocean! Wheeeeee! Afterwards, Stan took us to
Stanley Park
and we took more crazy pictures by the Totem Poles, and few other sites.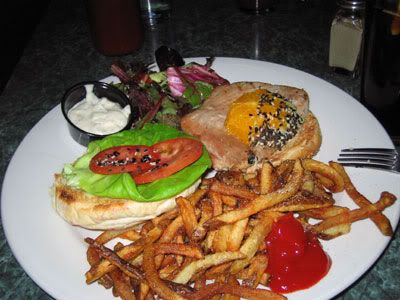 7:30pm:
"Can I make a reservation for you and I?"
We all were quite hungry so we went to
Subeez Cafe
(891 Homer Street - 604.687.6107)
for dinner. Stan and Kimmy both had the teriyake Salmon sandwich, i had the broiled tuna sandwich. Sooo good! Kimmy and i kept giggling at this hott hostess who was not serving us, of course:
"What time do you get off work? 9pm? Okay, can I make a reservation for you and I?"
Stan could just sit there and shook his head hahahhaa.. AWESOME! We were all so tired so we didn't go out, we just chilled out back at the posh apartment watching
Six Feet Under
and X-Files..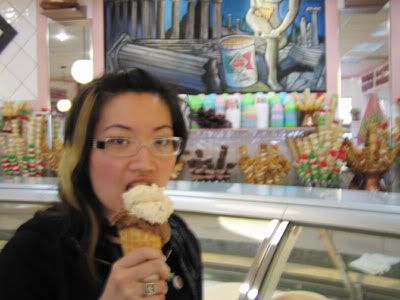 01.23.05.05: The Vancougar Finale
Damnit, i kept waking up at 6am because i was on Toronto time! I packed my bags and left the apt around 11am, Kimmy and I visited a couple places i wanted to go back to takes pics for my stylish travelling guide (okay you don't have to get too excited YET, just you wait people!). Then we took the 22 Bus to go to
La Casa Gelato
(
1033 Venables St -
604.251.3211)
, on route there, we passed through Chinatown. The shoppe was in the middle of nowhere, but there were 208 gelato flavours. We tried some weird ones: garlic, spicy mango, sour sop, saffron & pistachio, apple green death.. Kimmy got the frangelico & chocolate flake and Toblerone scoops and i ended up getting the chocolate & peanut butter and fig with chocolate shaving scoops.. it was fun! The handmade waffle cone was the bomb! Then we bus back it was 2pm, i wrote a few more postcards and then Stan dropped Kimmy off at the bus station (she's off to Victoria) and dropped me off at the airport.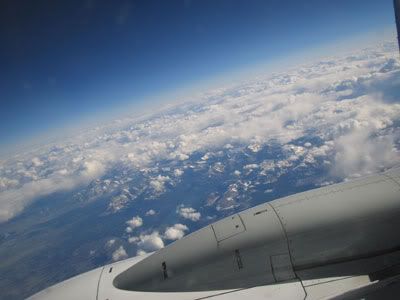 3:20pm: I'm coming home...
I sat around the airport to finish up all the postcards, i posted them and then i checked in for my flight. Gah! I got the non-window "window" seat! It was a safe, short flight, I couldn't napped on the plane. My plane landed at 11:20pm, i felt kinda sad when i didn't see anyone i knew was waiting for me at the arrival.. boo! I didn't have the patient to wait for the Airport Rocket bus, i took the 58 Malton instead to Lawerence W Station. What a mistake, i took the long way, i got home at 1:30am.. zzzzzz..
I've had such an amazing weekend, even though it rained most of the trip, i enjoyed the most walking around the city in the rain, soaking it all in. I didn't make it to Seattle nor Victoria but i did met some amazing people, i wouldn't change my trip any other way! I need to go more places. From now on, I'm going to try to go travel somewhere at least once a year.. the experiences you gained from travelling are something that you can never learn from books. EVERYONE, DO IT!!