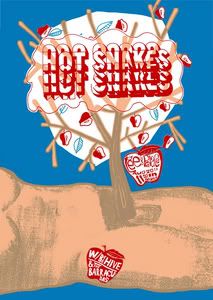 Serigraphie Populaire: with
Dj Mikey Apples // Dj Miss Sin
04.24.02.05 @ Artlab (457 Richmond. W., Toronto)
I've been feeling anti-social since Saturday, but I went ahead to attend the art openning anyway. The above were my purchases. I can't wait to frame them. I love attending artshows, it makes me feel very inspired. I talked to Chloe at the show for a bit, she's also in Aidswolf. She liked my scarf, we talked about glasses and being obnoxious. I saw way too many people there that I knew, I couldn't hide anymore, so I left early before I see any more people. But i'm glad I went..
Killing Time.. Killing Me..
I was killing time at a bookstore, when i came across the latest issue of Filter, inside there was an article of Doves, Kaiser Chiefs and J's band. My heart sank as i saw his photo.. i couldn't bring myself to read the article... i wonder if he ever thinks of me? should i see him in April?
Who are you, Mystery Boy?
Today, I received some random e-mails from some random boy named Jimmy, apparently from Ashburn, he had no idea who i am nor i know who he was:
His first email:


Subject: oh how thee see the light upon the rocks that sink the ground.
Msg: I wear black socks...



My first reply:


...so do i.



His 2nd email:


Subject: the sun lights the moon
Msg: my jeans keep ripping from the heal of my shoes.



My 2nd reply:


Subject: sunlight makes me paranoid at noon
Msg: you should really hem them if you choose.



His 3rd email:


Subject: A cave may be the solution
Msg: Perhaps I should just wear knickers.



My 3rd reply:


Subject: Your solution is just a temporary situation
Msg: Hmm.. I want a snack, perhaps Snickers.