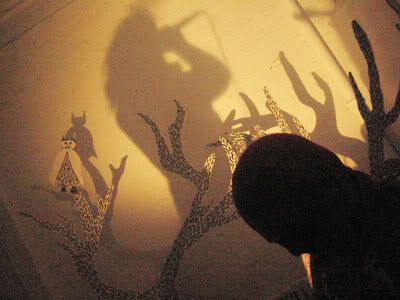 Les Georges Leningrad // Pony da Look // Aidswolf
03.16.02.05 @ XPACE (303 Augusta, Toronto)
XPACE is a newishly gallery in Kensington Market ran by the lovely student union of my former school -
OCAD
. We arrived to the venue shortly after 9pm, there was already a small number of people chilling outside the venue. Doors finally openned at 9:30pm, we entered the tiny but white narrow spacious XPACE, local artzies, hipsters, scenesters began flooding the venue by 10pm. Egad, spotted Hannah Sung interviewing the guy from
Les Georges Leningrad
for
The NewMusic
.She is such a scenester!! *roll eyes*
Aidswolf
was on first. Bodies agmonst bodies packed circling the little space around the performers. Aidswolf put on an amazing high-energy show that rocked everyone. You can see photos at
Kid with Camera
's site. (pssh.. i'm in photo 1, teehee).
Pony da Look
was the next one on.. Oh dear Lord, due to the tall people, i couldn't see their performance at all. i honestly thought it was a man reading off a medieval scripture! Despite overheard a few guys saying the girls in this band supposedly to look really hott, i didn't like their set at all. ARGH! After a long wait,
Les Georges Leningrad
finally came on, the band all dressed in costumes, it was fantastic! The keyboardist was in a wrestling mask, the singer was in a fantastic halter black with bright coloured polka dots, the drummer had nothing but funfur leopord hot pants with a huge skull belt buckle. I danced through their set.. corner of my eye spotted Chris Murphy from
Sloan
standing behind me. It was a good nite.