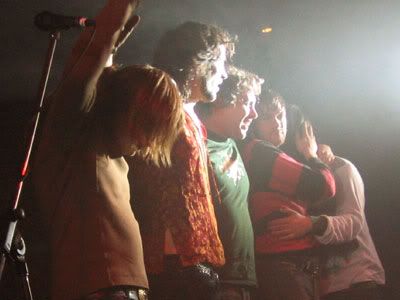 Kasabian // Projet Orange // Stirling
06.26.02.06 @ Lee's Palace (529 Bloor Street West - 416.532.1598)
It was the coldest day ever! My toes were frozen from lining up. Eileen was more shocked by the new door/decor change of
Lee's Palace
rather than the band nor the freezing weather.
Stirling
put on a good show, but i can see the singer's voice could potentially be annoying if hearing too much of him.
Projet Orange
was the usual. It was a bit ironic that they opened for
The Music
, now they're openning for the band that is openning for
The Music
on this tour.
KASABIAN WAS FUCKING AWESOME! And that is all i have to say... no, heh. The lighting was awesome, rumoured that in the UK they have 90 lights, they were only down to 6 laser lights. They played 63 minutes, done every song possible plus 3 b-sides. During the last song "Club Foot" this British guy started an one-minute mosh pit. So lame! A reporter from NME was at the show. We met Trevor, he did sound for Starsailor before, but i couldn't remember him from there. But he was funny as hell.. and all these stories he have to tell.. We'll start this madness all over again in a few hours..