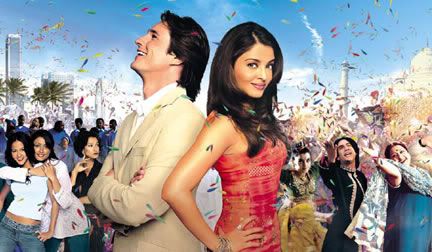 *** UK/USA. 111 min. Colour 2004. Directed by Gurinder Chadha
Written by Jane Austen, Paul Mayeda Berges & Gurinder Chadha.
Cast: Aishwarya Rai, Martin Henderson, Daniel Gillies, Navven Andrews

03.02.03.05 @ 7pm Cumberland with Amy and Nina.
Exactly how it would be if Jane Austen meets Bollywood and Hollywood, and it worked! What a fun film. Gurinder Chadha (also directed Bent It Like Beckham) gave Jane Austen's "Pride & Prejudice" a Bollywood treatment: with all the stereotypes of Bollywood film where for no reason it breaks into singing accompanied by dancing. And like other Bollywood films, the main characters never kisses, though the evil "villian" in the film didn't have a moustache! Aishwarya Rai is stunningly beautiful and Martin Henderson was charming and HOTT! I actually expected it to be much funnier than it was but it was great fun. This film is a musical romance comedy, and it will keep you laughing and "screwing a lightbulb and petting a dog"! FUN!
Henri Faberge & The Adorables
Another great night. Poor Merckeda waited an hour for me as we were very late. We went to grab food after the film and time just flies when three girls started chatting. When we arrived to the Embassy (223 Augusta St. 416.591.1132), we only got to see 2 1/2 songs by Henri Faberge & The Adorables, but it was good fun! Henri and i had our matching hot pink lightning bolt earring tonite. synergy! Gargamel and Billington were also there, no nipples. It was lowkey, it was a good night.