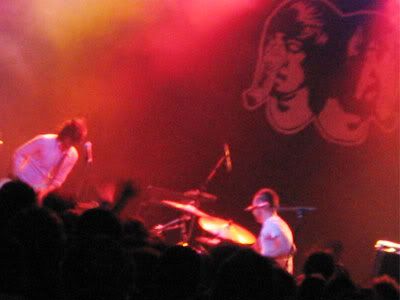 Death From Above 1979 // Red Yellow // We Are Wolves
02.08.03.05 @ The Opera House
(735 Queen Street East)
It reminded me once again why i hated all ages show.
We Are Wolves
are from Montreal, seems like the current trend that every band has some kind of "wolf" figure in their band name. They are alright for what they are, the singer was weird with this chicken whaling vocals. Second band was
Read Yellow
from Massachusetts. They are totally
...And You'll Know Us by the Trail of Dead
wannabe but ended up crossdressing as
Alexisonfire
.
A stand up comedian
Terrance
, a buddy of
Sebastien
's, told us a few jokes whilst
DFA
was setting up. He was funny.
DFA
played for an hour including encore. Bodysurfing and mosh pit from songs to songs,
Sebastien
even had to stop the show at one point to tell the kids to stop bodysurfing because they were kicking people in the face and it's not cool. I like the comment he made about this particular guy who shouted that
Sebastien
had a haircut. (Of course, i love any comments about hair in general)
Sebastien
goes, "Yes, i have to cut my hair sometimes, unlike yours" and then went on mentioned kudos to the bald guy that he just have to wake up brush his teeth and fly to work and that dude who needed a haircut has to spend heaps of time fixing his hair and still look like shite. That was the hilight of the evening. They were their usual best, but all these kids... arghhhh..