Limblifter // Leeroy Stagger // The Heck // Hedley // Run Chico Run
05.04.03.05 @ 9PM at The 360

(326 Queen Street West)
Stop 1: Run Chico Run at The 360
Good ole' Thomas and Matt from Victoria, BC! I almost didn't recognized the
Run Chico Run
boys when i saw them! Matt's hair has grown to incredibly long and he has a full grown beard, he could almost join Bionic! Thomas had this supermariostache (is this the trend?)! There were a few bodies were there for them, there was a two-men mosh pit during the show, and as their final song of the evening was playing, these two guys invaded the stage and danced. Later on, one of them found a random drumstick from the ground and started banging the drums with it. Whilst, another random guy jammed with them on the keyboards. It was very unusual and unexpected, especially for a 9PM slot band.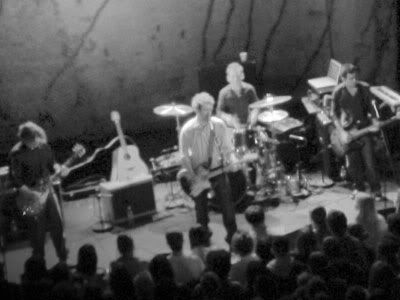 The Frames // Mark Geary
05.04.03.05 @ 11:30 PM at The Opera House

(735 Queen Street East)
Stop 2: The Frames at The Opera House
After a quick goodbye to Matt, Eileen and i scooted over to
Dangerous Dan
for some late night poutine and headed to the
Opera House
. We headed to the balcony, it was quite packed.
The Frames
blew my mind! The melodic singing and the acoustic guitars. They rocked out a few songs. I was amazed by the amount of people that knew their material well during the many sing-a-longs of the evening. The Frames, excellent!
Radius & Helena // Clothes Make The Man // The Bicycles // Jeen O'Brien // Hill
06.05.03.05 @ 1 AM at Rancho Relaxo

(300 College Street - 416.920.0366)
Stop 3: Radius & Helena at Rancho Relaxo
We left during the encore of The Frames and headed back west to
Rancho Relaxo
for our final stop of the evening. We got there shortly after 1am, and
Radis & Helena
has already started playing. Fink-Nottle and Merckeda were already there, good to see them made it out to Steve's gig. Steve even went shirtless after a few songs.. haha! What an eventful evening!