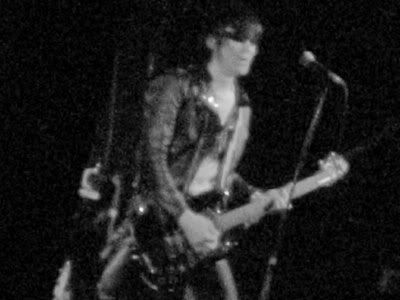 Guitar Wolf // Cuff The Duke // The Downbelows // Lullabye Arkestra
04.02.03.05 @ Lee's Palace (529 Bloor Street West - 416.532.1598)

Lullabye Arkestra
was already on stage when i arrived at the venue. They're a 7-piece band formed by Justin Small from
Do Make Say Think
and
Deep Dark United
's Katia Taylor. They are loud, retro thrash metal thrown in some 60s soul. Not bad. Second up was your typical punk garage band
The Downbelows
. Of course, a mini mosh pit of two also started by the end of the show.
Cuff The Duke
however stole the night i must say. I have seen them before last year at CMW, this is the best show i've seen them played. Initially i thought it was odd to put them on this Rock bill because they are more "alt-country" if you have to stuff them into a genre. The whaling guitars, Wayne Petti's indie outfit was tops! Especially when he walked on the ledge and rocked out, oh so Rock'n'Roll! At last was
Guitar Wolf
, hailing from Tokyo, Japan, one of the Japanese headliners of CMW. This trio all dressed in leather, covered with tattoos, they are LOUD, they ROCKED. The crowd was completely insane before they even came on stage, and when they did, they rocked out the complete sold out
Lee's Palace
! They never stopped in between songs, they just kept playing like a rock machine. Half way through the set, they were soooo out of tune but they didn't care, they kept on rocking! Now THAT'S ROCK N ROLL!