The Zoobombs // Boy Ballz // Gentleman Reg // Two Koreas // Shikasta // Femme Generation
06.05.03.05 at The Comfort Zone

(486 Spadina Avenue)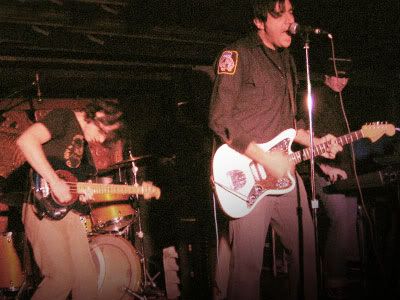 Femme Generation: Oh so Rock 'n' Roll
Femme Generation
were much better this time than at Rock n Roll Slumber Party. Maybe partly because singer Bernard had the ridiculous make-over, or i was too busy watching pillow fight and hogging over the chocolate fondue table. They were rocking, at the end, Bernard was such a rockstar, he knocked down everything.. go Pinko!!
Shikasta: *Yawn*
Terrible. I was so bored during their set, i had to go to the next door 7-11 and take a break but the crowd seemed to like them but they weren't my cup of tea.
Two Koreas: A Bunch of Critics
Two Koreas
are a bunch of local music critics and a member from
Uncut
all melted together to form this band. They were pretty good, lots of people were there for them, but I must say i prefer
Uncut
. if it wasn't for Ian Worang really..
Gentleman Reg: Makes Rufus seems Straight
I've heard good things about
Gentleman Reg
, i was looking forward to see them. They were made up by two-thirds of
The Hidden Cameras
, they were good. Owen Pallett of
Final Fantasy
played violin for them. Owen is absolutely fantastic!
Boy Ballz: Where are their ballz?
Very interesting. Bunch of them dressed up as b-boys or the Village People rather, the singer was totally Ron Jeremy-esque pimpin' and they asked if anyone likes to lick a pussy?!? Ehrm..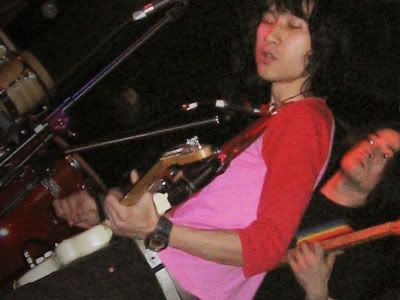 The Zoobombs: The Japanese Bomb
THEY WERE AWESOME!!! This was
The Zoobombs
third show of CMW, this band gave it 120% everynight. High energy rock 'n' roll, jamming for 2 full hours without stopping in between songs. I danced and danced. Damn these Japanese, they were all so effortlessly cute!