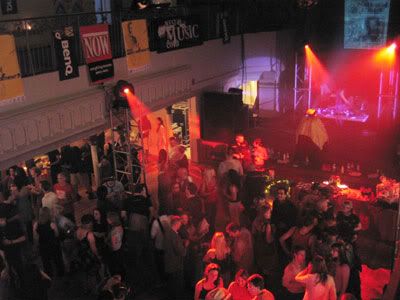 Was another busy day at work today, my client Eric still drove me up the wall! ARGH! It's that time of the year again, it was
NXNE
's final cashier meeting today at 6pm, it's the same thing again, yadda yadda.. but this year i got to use the
Ticketmonster
beeper! wheee! I'm working at
Lee's Palace
again this year. I don't think i'll work the Saturday show, so hopefully i can go bar hopping, i really want to go to
Xpace
and see
ddmmyyyy
These are the bands:
04.09.06.05 - Chart Magazine Presents


| | |
| --- | --- |
| Stirling | 1 AM |
| The Mahones | 12 AM |
| Hugh Cornwell | 11 PM |
| The Novaks | 10 PM |
| Brian Byrne | 9 PM |



05.10.06.05 - Bedlam Society Presents

| | |
| --- | --- |
| Bedouin Soundclash | 12 AM |
| City And Colour | 11 PM |
| The Junction | 10 PM |
| The Fullblast | 9 PM |
8:20PM: Chart Schmucks-Ahoy Party at Berkeley Church
After the meeting Eileen and i killed sometime before we headed to
Berkeley Church
(315 Queen St E - 416.361.9666)
. We checked in with guestlist and drink tickets and we went into the venue. It's the cutest little place, well it is a church, much look like
Palais Royale
(1601 Lake Shore Blvd W - 416.533.3553)
only with a balcony and an alter. It has the cutest bathroom, French sage green with Victorian mirrors. It was pretty packed and there were lots of "industry" people. When we first enter, we spotted Jesse from
Death From Above
taking photos at the
Chart
booth. They were giving out samples of Jagermeister shots with Red Bull, the most disgusting combination ever -- cough syrup! The food was not bad: somosas, pitas, wraps, mini shrimp dumplings, pot-stickers, steamed buns, pineapple, watermelon, puff-pastry mini things, phyllo triangles with cheese and spinach (ours were MUCH BETTER). The so-called "cool" and "fashionable" chicks are the big joke of the night, first off, they're not very young, second, they're still going for that 80s Electrotrash look, c'mon, soooo last year! Even if the outfit was "decent" they ruined it by wearing ugly uncomfortable platform shoes (so 90s!) and what's up with all these girls with grossly long painted toenails?! That's the most disgusting thing EVER! Bahhh.. we spoke to a few people, had a beer, took the swag bags (it's not even that great this year, 3 old issues of Chart (not even the new one, you have to grab that from their booth), a full size of STIFF hair puddy (not bad), Charles Worthington Shine Spray (that i like), Gillette razor, Caesar sticker and BenQ flashlight.. bahh!) and we quietly left the party. Schmuck smoozing is not for us!