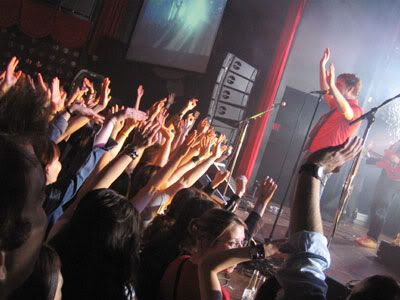 Kaiser Chiefs // OK GO!
07.29.05.05 @ The Mod Club
(
722 College St - 416.588.4663
)

Eileen + Elsie
A bigger venue this time, couple months ago Eileen and I saw them at
El Mocombo
with
The Golden Dogs
,
Uncut
and
The High Dials
.
OKGO!
was alright as usual we've seen that a few times before. The highlight of the night was when after their show they came back out and did a choreographed dance!! Brilliant!
Kaiser Chiefs
hailed the stage at around 11pm. They put on a high energetic show apparently it was also recorded by
CBC Radio 3
. Apparently our crowd was better than previous night (they played a free show the night before as Edge's Next Big Thing at same venue) and Montreal's. They were good, but being the indie snobs like we are, they're on their way out on our list.. too bad!