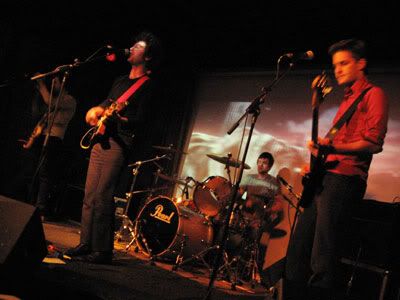 Youth Group
05.17.06.05 @ The Drake Hotel
(1150 Queen St W
- 416.531.5042
)
Hailed from Austrailia,
Youth Group
has been under the stealth radar for quite some time. Bassist, Patrick Matthews, is also plays in a more popular band --
The Vines
. The band's first Canadian debut at the beautiful Underground but it was not packed at all, not only it was an early show (Doors at 5pm) and i guess not too many people had heard of them before. Below was their setlist:
Skeleton Jar
Frank Stone
Someone Else's Dream
Underpass
Lillian Lies
See-Saw
Drowned
Baby Body
Shadowland
Piece of Wood
I enjoyed the set. Eileen said she wanted to punch out the leadsinger. haha! I thought he was alright, though i can see the potential of his voice being annoying, he had that
Jesus & Mary Chain
kinda look to him. I totally didn't realized it was Patrick from
The Vines
until someone pointed out to me later. It was funny that Amy and I were wearing the same
Fred Perry
zip-up (only difference in colour) and we were both carrying a canvas
Dean & Deluca
bag. After the gig, we all went to
Lakeview Lunch
(1132 Dundas W - 416.535.2828)
for a malt-shake until Ren and Eileen headed off to see
Oasis
at the
Molson Amphitheatre
(909 Lakeshore Blvd. W - 416.260.5600)
.