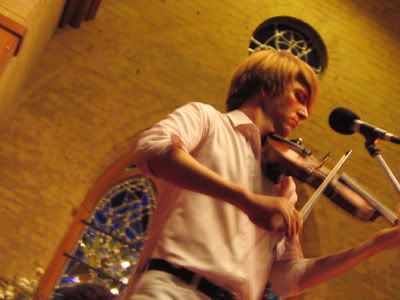 Final Fantasy with St. Kitt's String Quartet // Torngat
06.25.06.05 @ Music Gallery
(197 John St - 416.204.1080)
I can't believe how huge
Final Fantasy
has became all of a sudden. At the beginning of the year when i saw him at
Rancho Relaxo
, it was almost empty. But i guess a good secret can't kept for long, i'm glad about his success and he deserves it. We arrived to the venue around 6pm after we got separated from the film earlier. There were a bit of a line up already. Kate showed up not too long after us, so we chatted a bit in line. At about 6:30pm, they started to sell tix at the doors. Zach and his friend Julie, cut in line just in time, as they were the last two people would could get tickets which later on caused a huge fuss on the
board
.
Torngat
from Montreal opened. They were an instrumental experimental band, they were good. I quite enjoyed them. I spotted
Jeff Harris
!!! He actually asked if the seat was taken before the show.. but i managed to snapped a pix of him haha!
Owen Pallett
dressed in a pink shirt and all white ensemble played a few solos before he brought in the
St. Kitt's String Quartet
who half were dressed in all white, half all black. He mostly played new songs, only 3 were from the album:
The CD Tower Belongs to the Dead
,
This is The Dream of Win & Regine
and
Please, Please, Please
. Not much quirky chatter between songs perhaps he was nervous about the string quartet or the
CBC Live
recording. He did a cover of "
Good Mother
" by
Jann Arden
. He commented "if i have one of those long jackets, i would be a better singer." So awesome!! After the show, instead of going to
Xiu Xiu
like everyone else, Nina, Heather, Amy, Eileen, Thomas and I all went to Chinatown for some pho.