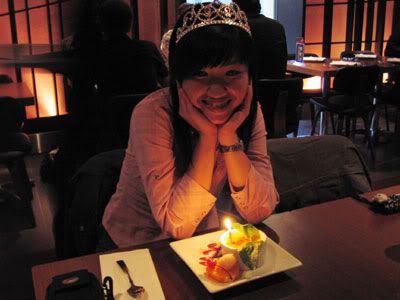 01.30.05.05: Amy's Birthday

11:50pm:
After
Kaiser Cheifs
, I had this cunning idea of going to
Dominion
and get mini vanilla cupcakes to surprise Amy for her birthday. She was glad and wished for something silly. hehe The mini cupcakes were very cute!
6:57pm:
I *finally* made it to
EAST
(240 Queen St W - 416.351.EAST)
to meet up with the girls for Amy's birthday dinner. It was basically same as the other
Spring Rolls
, only
EAST
has a bit more dim-sum like items. I had tofu green curry with rice, Eileen ordered a sea bass dish, Amy had mango chicken with rice and Nina ordered the General Tao chicken with rice. We all shared the mango creme brulee, Amy was surprised again to see our waitress presented the dessert with a lite candle. She got a second wish, hope she wisely wish for something else this time.. hehehe.
10pm:
We went to
Communist's Daughter
(1149 Dundas St W - 647.435.0103)
for a drink after dinner. The cozy little bar was located around the corner of where Amy and Eileen live now. It has an excellent jukebox! We spinned like 20 songs on the jukebox, i played some
Rolling Stones
,
Gary Numan
,
Neutral Milk Hotel
,
Feist
and
TV on the Radio
. The bartender, Michael, was very friendly.. There was a
Run Chico Run
sticker on the wall behind our table, i freaked. We played Hott Dice and i rolled 1-2-3-4-5! We left shortly after midnight.
02.31.05.05: Another Sushi Adventure with Mike
7pm:
I've been looking forward to this! I haven't been to
Sushi on Bloor
(515 Bloor St W - 416.516.3456)
for a while, so i'm very excited about this! And it didn't rain tonight.. hehe. We shared a spicy sushi pizza, a tempura appetizer, dynamic roll and crunchy roll. They looked so little but there was so much food! We had a good chat as usual, it was almost surreal that we were in Vancouver last week and there we are in Toronto. I kinda felt bad because there were heaps of people waiting outside and we were there for 2 hours. Even it was for a short time, it was great seeing him again.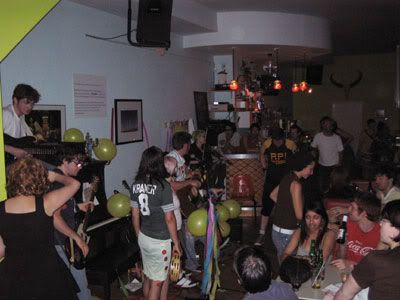 Henri Faberge + The Adorables @ The Embassy
03.01.06.05: Niall's Fucking Birthdaaaay + Henri Faberge & The Adorables @ The Embassy
8pm - Pre-drinks & Dinner at A&E:
Somehow i still haven't grasped the concept of havinig "Pre-Drinks" at A&E because Amy doesn't even drink and all of a sudden they have an entire bar of alcohol selection! haha! I arrived at A&E, Amy was making us some brown rice bowl with raw veggies on top and some vegan tahini dressing. Eileen was like "screw this, i'm having ramen!" hehe I thought it was tasty!
10 something pm:
We arrived at
The Embassy
(223 Augusta Ave - 416.591.1132)
at around 10-10:30pm, Bredan was by the door so I stopped and said hello, most of the seats were filled already. Ben, Emily and Renata were at the back, so we cut through whilst
Thick Hawk
was still playing and sat by the bar. The "stage" area was decorated with streamers and yellow balloons it was cute.
The Township Expansion
sounded much better this time, even though i'm sure Niall was very drunk, he kept saying "It's my fucking birthdaaaayyyy!!!" or changed part of the lyrics to that. haha so funny. Then Henri presented him a chocolate cake, we all sang "Happy Birthday", then they got into a cake fight!
Henri Faberge + The Adorables
were awesome as usual! Pete was dancing all night (and doing jumping jacks), with 2 additional waredrobe changes! They covered
Donovan
's
Happy Together
and
Yeah Yeah Yeahs
'
Map
. Oh the fun times!!! The fun times repeat next month..
04.02.06.05: Oh Janet!
I bumped into Janet a few days ago on the bus, it was odd, i was napping and someone tabbed on my shoulder hahaha I haven't seen her for a long time, since she was busy with getting into school and I was on all these mini roadtrips. We made plans to have dinner tonight. We met at Yonge & Eglington, our only time hanging out in that area. We went and checked out
Accessorize
(2614 Yonge St - 416.483.4992)
which apparently was an UK chainstore, i was just at one of their Vancouver location on Robson last week! We went to dinner at
Pickle Barrel
, since i've missed her birthday celebration, i treated her for dinner. Then we wandered to the 24hr
Shoppers Drug Mart
for some old time makeup/product talk fun.. hehe aww i miss hanging out with Janet!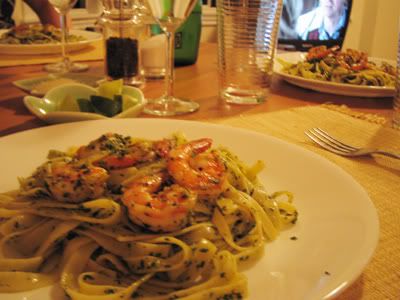 06.04.06.03: NXNE + Wedding Dress Hunt + Ate My Greens
2:30PM:
Blah Blah Blah.. It's that time of the year again,
NXNE
is next week! It was kinda awkward stepping into
El Mocombo
post-20hz.ca incident. There were 20hz.ca posters plastered all over, when i was on route getting there, i was thinking that maybe i should get one of those Dylan headbands that says "stillepost.ca".. haha! It's the same every year at these volunteer meetings, i know it all too well, this will be my third year as cashier for the festival. But this year i've been nominated by "upper level" to do the "Count-Out" at the end of the night. I was kinda furious at first since i didn't want to stay behind and deal with all these money counting business.. but i guess it's an honoured to be nominated as well. we'll seee...
4PM:
Eileen and I met up with Nina and Amy after our meeting at
Pho Hung
(St Andrews + Spadina)
, we had some Pho and spring rolls, as the other girls went to grocery shopping in
Kensington Market
. We met up with them after. I went to
Courage My Love
(14 Kensington Ave - 416.979.1992)
, one of my favourite store, and i unintentially found this very cute mint-sage vintage dress for $14, it would be PERFECT to wear for my cousin's summer wedding! (HAHA fooled ya! I guess the heading was misleading, Dress for a Wedding not Wedding Dress, certainly not MY wedding! My cousin Bonnie went to Xinjiang, China to teach English and met a guy from England a year ago, now they're getting married!! She's only 24!). Ironically, Amy was looking for a dress for her cousin's wedding as well, she intended to spend $20 but ended up spending $120 on it.. haha! We shopped around for a bit, we went for a sundae, then we went to
Sunshine Deli
(895 Dundas St W - 416.364.8832)
, where i bought a cute red vintage skirt with multi coloured butterflies for $22. Then we went to
Clandestino
(249 Crawford St - 647.436.4761)
to check out some shoes.
8PM & 12:20AM:
We dropped off our shopping, Amy made us this pesto pasta with shrimp.. then we headed off to
Neutral
(349 A College at Augusta in Kensington)
for
Eat Your Greens
(Trevor and Duncan's new night after their years at Blow Up)
. The space was in a basement, but it's a cute space, it's nice. But it got really hott in there, so we spend most of our night outside by the steps. It was good music though, we danced and danced and danced the night away..
07.05.06.05: The Good Daughter but Feeling Bad
Finally i get to spend the day with my mother. I haven't been home for the past 3 weekends.. My sister is also back for now from Montreal. We chatted a bit this morning, she told me some stuff about Paris and how she might be moving to England next year. *Sigh* Mom and I went to
Town Centre
(our ritual every Sunday minus the DimSum this week). I felt kinda bleh today and i felt like being bad and spending... I bought couple tank tops and a pleasant skirt. I was going to buy more lingerie, but i've already spend $60 on lingerie on Friday.. which is kinda ridiculous really because i'm the one who sees myself in them! HA! I made veggie rice roll tonite.. it was yummy!!